I remember as a child in the 50's how impressed I was to see the mount of a really big fish. I wondered if I would ever be so lucky as to land something that big. It turned out that many years later,I would be far luckier than I could have ever imagined. I am finally closing in on my personal "grand slam" and only lack a 10 LB. Lahontan cutthroat trout mount to complete my (6) favorite species that includes cutthroat, rainbow, bull, brook, lake and brown trout. With the exception of the 5.75 LB. brook trout, all the other fish exceed 15 LB. and a couple exceed 20 LB. I'm not sure just how I pulled it off, but my wife has graciously allowed me to hang these mounts, right in our living room! Can you believe it?!.....the living room wall!!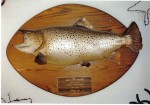 My first mount was only a 3.5 LB. rainbow back in the late 70's and it was such a poor job, that it ended up in the trash later that year. Next came a 6 LB. 5 oz. rainbow from Willow Beach ( a famous tailrace fishery below Boulder Dam ) that produced giant rainbows up to and including the record rainbow that topped 21 LBS. back in the late 60's! I can still remember standing below that monstrous rainbow mount and admiring the size and beauty of that fish. These days it is one of the hot, big striper locations in the country. The rainbows that are planted there now are, for the most part, simply fodder for the monster stripers ( up to 60 LB.) that inhabit this famous section of the Colorado River. One of my Grandson's has that old, but realistic fiberglass mount from 1973. Bob Skinner, who mounted it for me, was the top taxidermist at the time in Southern California and one of the early innovators in the fiberglass replica revolution that would change the industry. That was the only trout I ever did with Bob.


Back in the early 80's, my Dad and I would make our annual trek to fish the Twin Lakes up in the High Sierra's outside of Bridgeport, Ca.. One of my daily rituals was to stick my head in the door of Ken's Sporting Goods to see if any really big trout had been weighed in. The old freezer box that sat outside the front door would often have 8-10 trout laying along the tin foil lined shelves. Right after the spring opening, the bigger rainbows and browns of 4-8 LBS. started to fill the box. If you were one of the lucky few, you might some day have a lunker brown from the Twin Lakes, in that freezer.

I'm talking about big, trophy browns exceeding 10 LBS.! The enormity of trout this size makes true "trophy trout addicts" somewhat delirious! The last (3) California State brown trout records came from these breathtakingly, beautiful lakes and weighed between 25 and 26.5 LBS.! What was even more impressive than what I would often see in the freezer, were the mounts that adorned the walls of the store. There were several big browns up into the high teens back then and today, you can see the 33 LB. 10 oz. previous World Record brown trout mount that belonged to Bob Bringhurst that was caught from Flaming Gorge Reservoir, Utah, back in 1977. If you ever find yourself driving this section of Highway 395 along the eastern side of the Sierra's, it is worth a quick stop just to see these monster trout mounts. If my memory serves me correctly, there is also a brown mount of a 31 LB. hen caught by Dennis Lee during that same "glory days of Flaming Gorge" era. Danny Stearman's current California State Record brown at 26 LBS.+ along with the Bridgeport Lake record brown at 22 LBS. hang above the counter and can make you forget why you came into the store. Another "trophy trout wall" to see is only 90 miles down the road in Bishop, Ca. at Jack's Waffle Shop. There you will find several trophy brown mounts and a 51 LB. laker mount from Flaming Gorge that will have you drooling.


After my early experiences with the smaller mounts, and then seeing the collections from the eastern Sierra stores, I soon realized that I was a "fish mount junkie." All I needed to do was catch something big enough to mount, which is easier said than done. The "perfect storm" for me came when my plumbing business success afforded me the opportunity and that, coupled with running into a few bigger trout on trips to Lake Pend Oreille, got my collection started in earnest in the early 90's. My 21 LB. gerrard rainbow was caught in 1993 and is my biggest rainbow mount to date.

I like to think I am an "artsy kind of guy" and was actually a fairly good artist from my youth up through my teen years. I even won a few blue ribbons at county fairs when I was growing up in San Bernardino, Ca. I believe my artistic inclinations helped me develop a good eye for fish mounts. The subtlety in the paint jobs and even how the molding depicts the details of the scales came naturally for me. "Fish Art," is what I like to call it. I have been totally fascinated by fish taxidermy for at least 30 years.


When I moved to Bend, Or. in 1995, I had the brilliant idea of developing a second career around fishing. That turned out to be tougher than I thought and for several years I kept hitting a lot of road blocks and made very little headway. One of the bright spots however, was my becoming an agent for a company in California that did fish mounts. I was convinced that these guys could produce better mounts than what I was seeing here in Central Oregon. That is something I believe is still true today.

The Old and the New

For many years, the skin mount was the standard and that is what you got when you ordered a fish mount. Basically, a fish was skinned and then the processed skin was placed over a stock or custom foam body and the detailing and painting would hopefully resemble your fish. Often the reality was the fish didn't have as much resemblance as the customer had hoped to see. I have friends who got back fish that were much shorter than their fish really was. Some skin mounts would end up cracking or bleeding oils that discolored the fish over time. Another poor bi-product is that fins can curl and split over time. I have recently seen some skin mounts that a couple of my friends had done over in Idaho, and I can tell you that they were some of the better ones I have seen. I'm sure that there have probably been some advancements in this end of the business but I haven't kept up with them. In my opinion, fiberglass mounts are a superior product and the state of the art.


One of the strangest stories I ever heard was from an angler I met at one of the outdoor shows who had caught a salmon in Alaska and had been sold a freeze-dried, processed fish mount. Several months later, while setting in his home watching TV, he noticed a small white moth flying around the room. Then he spotted another and then several more appeared. Upon further investigation, he finally traced the source of the intruders to the back of his salmon. There was a small nest of the little critters that had made the fish their home. The guy said he ended up throwing the 50 LB. salmon away. In fairness to the guys that did the job, maybe some part of the processing was left out. I really don't know. One thing is certain, you don't hear much about freeze-dried fish mounts anymore.

Back in the early 70's, a few taxidermists starting experimenting with actually molding the fish. The 6 LB. rainbow I mentioned earlier in the article was a solid fiberglass body that was a perfect replica of my fish. That fish, which is 35 years old this year, has held up fairly well considering that these pioneers were trying new things that were not time tested. It has developed a few small cracks along the back below the dorsal fin, but that is about the extent of any changes that have occurred over time. As the process evolved over time, these artisans started using different materials and procedures to produce a lighter but resilient product.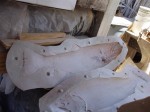 Today, the process in general involves positioning the fish and then casting a resin/fiberglass mold over each side of the fish. After curing, the mold is popped apart and then the molds allow for a casting of the two halves of the body that is then joined together to create, what is called in the industry, a plug. Even the ventral and pectoral fins are molded and re-attached to the body. Depending on how far they want to go, the throats can be molded to give even greater detail to the fish. The glass eyes and a detailed painting process can sometimes deliver a mount that looks better than the original fish! The beauty of this process is that you actually have the closest thing you can get to the real fish......an exact replica of your fish! One of my rainbow mounts from the early 90's shows the damaged, scarred, scale area above the anal fin where the fish was attacked by something when it was young. It is amazing just how detailed the molds can be. I have a brown trout mount from the mid 80's that looks exactly like the day I opened the box.

The leaders in this field are those who have put together a tried and tested process of turning out molds that can produce exact replica plugs. There are tricks to this that I won't go into but the bottom line is to produce as clean a casting as possible. That is just the first half of the process. In the second part, it is all about how these artists can bring lifelike details to the fiberglass body through the painting process and a few other subtle procedures they employ to make the mount as real as possible. The richness of color mixtures and how the finish clear coat is applied has a lot to do with the realism you want to achieve in the finished product. In my opinion, this is what makes or breaks you. Even a good paint job can be very forgiving to a poor mold job. On the other hand, a good mold job will be wasted on a poorly painted and detailed mount.


I have been very fortunate to hook up with two brothers in Southern California that have over 30 years experience in the field. These guys have a full service operation and do some of the best work I have ever seen. They have allowed me to be their main internet agent through my website www.trophytroutguide.com and I have set up Rick's Trophy Mounts (541-480-1570). This past year we were honored to land the mounts of three of the biggest trout ever caught! A giant brook trout was caught and released late last year by Tim Matheson in Canada. The dimensions of the big char calculated the weight to be around 16 LBS! The existing World Record caught at the turn of the last century was 14.5 LBS. and that record is nearly 100 years old. A few months before that, Jeff Turner from Dallas, Texas caught what has been determined to be the biggest catch and release fly caught brook trout of all time. At almost 11.5 LBS., it is truly a monster brookie, especially for a fly caught fish. But what tops them all is Adam Konrad's giant 43 LB. 10 oz. official World Record rainbow trout caught in Canada this past summer. All of these fish and many more can be viewed on the taxidermy page of our website.

What if I catch that special fish?

Another advantage of actually molding fish is that over the years, we have accumulated hundreds of molds of various species in a lot of different sizes. If you have caught and released a fish, we can cast a plug that is really close to your fish. All we need is the gender, length, girth, and approximate weight along with any photos you have of the fish. We probably do 3-1 in favor of catch and release mounts these days as more people have gotten into releasing their catch. Just remember that every mold started from a fish to begin with. If you catch that really special fish, it is best to kill it and protect it as I describe on the website taxidermy page. Really large specimens are often older and at the end of their life cycle and will end up as crawdad food sooner or later. What better way to memorialize your "fish of a lifetime" than have an exact mold of it on the wall. To put it in proper perspective, if you release the majority of your fish, harvesting one for the wall should not produce a guilt trip. I will give you an example of what I mean.


I recently got an email from a very proficient fly angler from back east. To protect their honey hole, let us just say it was a tributary on one of the Great Lakes. It turns out that he had released this monstrous male brown that was over 36 in. long and had a girth of 25 in. measured at the unusually large hump behind the head. It was a truly unique brown that calculates to be around 28 LBS. When he called about mounting it, we soon discovered that there just aren't many if any molds of males that big, that displayed its special characteristics. Something to keep in mind, if you catch that really large,unique or special fish, think about keeping it if you want to mount it. As I stated earlier, you can't do much better than an exact replica of your fish!

With a little care, the fiberglass mounts that can be produced today, will probably last longer than you will. I'm a little jaded, but they are truly works of art in my book.

Tight Lines, Rick