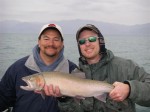 We had originally planned a trip to Pyramid Lake, Nevada, last winter to film our second in the "Monster Trout DVD Series." With some resistance from the Tribes in working with us on our filming project, we pulled back and filmed at Lake Tahoe for brown trout instead this past spring. By the way, the Tahoe DVD will be out by this coming winter/spring 2008.

Brad Stout, one of the best of the west coast trophy trout anglers in my opinion, was all set to work with us before we hit the snag last winter. Really wanting to get out after a large lahontan cutt, I called him earlier this fall to see if we could put something together this year before it ended. Mark K., the other half of team TTG, had been fishing there for years and he and I had the same goal of popping a big cutt over 10 LB! As we all know about trophy fish, this is easier said than done. Our confidence was high though, mainly because we would be fishing with Brad. He has some effective drills that have put him and his friends into cutts exceeding 10 LB. We were pumped on getting out to fish with him. Brad has actually caught some really big browns, lakers, cutts and brooks over the years. He is one of the most technical and talented trophy trout anglers I know.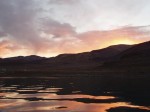 Let me stop here to give you a little history about Pyramid Lake. It sits on an Indian Reservation just north of Sparks, Nevada just outside Reno. It is home to the World Record lahontan cutthroat trout that was caught back in 1925 by John Skimmerhorn. That fish weighed in at a whopping 41 LBS. and still stands to this day as the record. As the story goes, the Truckee river flowed unabated into the lake and was the natural spawning area which was prolific for producing those monster cutts. As agricultural demands increased, the river was damned and diverted, for the most part, and the fishery declined. Due to increased efforts to revive the fishery, it had a resurgence in the 70's and cutts pushing 20 LBS. and up were showing again. Sadly, as in a lot of fishery cycles, this fishery has declined again over the past 20 years due to droughts, fishing pressures and up and down cycles of the tui chub that have been the lakes main forage base for the cutts. Though the lake has a good population of lahontans, the trophy fish over 10 LBS. are harder to come by.


We had decided on the long weekend going into Veteran's Day. I drove down from Bend and Mark came in the following morning from California. We were staying at Crosby's Lodge at Sutcliffe on the lake. Brad and I got out early the first morning while awaiting Mark's arrival. We managed to stick some nice cutts both trolling and jig fishing. Brad has a great system of targeting big cutts at Pyramid with jigs. We took a few fish within the slot limit and a couple of nicer cutts exceeding the 20 in. mark. My 3 LB.+ cutt taken on a 9" A/C minnow plug was the best fish of the morning and was taken trolling on the downrigger. When Mark arrived, we picked him up at the Pelican Point ramp and headed back out. Conditions were perfect for the jig fishing with NO wind, which is unusual for this lake. Brad, Mark and I managed to boat about 5-6 cutts for the day.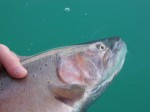 The next morning, we had a little wind but things quieted early and glassy conditions returned. We had decided to head to the north side of the lake and work our way down. We fished in that general area and I was fortunate to pick up a keeper size cutt of around 24 in. I think we weighed it at close to 4.5 LBS. and it hit on a jig. A little later, Mark hooked up on what looked like a nice fish the way his rod loaded. When he got the cutt near the top, it took off from the boat and I thought this fish might have some weight to it. When we netted it, the big male weighed 11.75 LBS., in my 4 LB. net, making the cutts weight close to 7.75 LBS. It was probably around 26-27 in., though we didn't measure it. We got some video of Mark releasing it and we high-fived all around at the best cutt of the trip. This was Mark's biggest cutt in many years of fishing the lake. I was really glad for him. It was not the 10 LB. cutt we were after but a very nice cutt that anyone would be thrilled to catch.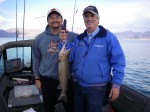 The wind finally started to pick up so we switched gears and went back to trolling. Mark had Allan make him up some wild paint patterns that these cutts seem to like. Greens and oranges with tiger stripes.....didn't look like a color I would use anywhere else. They seemed to like them and Mark stuck another nice cutt going 6 LBS. off the rigger about 150 feet back in front of the Pelican Point area where we launched. The A/C plugs were the hot lures when we trolled. A Lyman had one fish on but we didn't land him.

Sat. night got windy and rainy as a predicted front came through as forecast. I had decided to head home Sun. morning. Brad was going to spend some time with his family while Mark was going to do a little shore casting before he met with Mark Wiza for some time on Tahoe.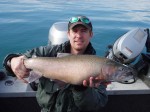 Crosby's Lodge is the only place to stay at the lake unless you want to camp. The rooms are Spartan but work out fine for die-hards like us. They have a restaurant and many mounts adorn the place along with their "wall of fame" that covers most of the south wall of the building. You have to land a 10 LB. cutt to get your photo on the wall and that is something I hope to do some day! I am planning on returning next year and hope to hook up on something I can put on my wall. It was another great trip in a truly amazing year!

Tight Lines, Rick