One of the things I look forward to each fall is a trip for big gerrard rainbows to Kootenay Lake or Lake Pend Oreille. I have been fishing these lakes since the early 90's and get excited each fall around Oct. at the thought of chasing after those big bows. As a far as I am concerned, nothing in freshwater hits as hard or burns more line off a reel as they can. I have mixed in some of our best photos of mine and my friends from past trips featuring some of these big bows caught off planer boards. I just found out this week that a friend and I will be venturing up to Pend Oreille for a week in Nov.......stay tuned for that report!
The following article was written for www.fishwire.com a couple of years ago. My buddy and guide, Lance Fisher, asked me to write something about using planer boards for catching the massive, wild, native gerrard rainbows. I hope you enjoy it and maybe learn something new.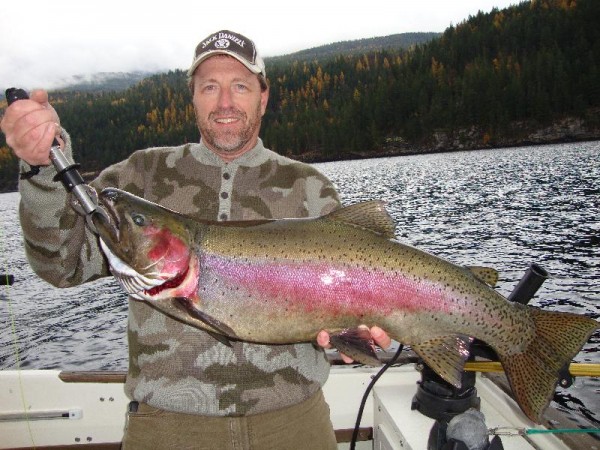 Don Linder caught this gorgeous 17 LB.+ hookjaw gerrard rainbow this past Oct. at Kootenay Lake. These are the biggest wild rainbows in the world and arguably the most beautiful!
One of my favorite fishing drills was originally developed back on the Great Lakes years ago. It evolved over time here out west on Lake Pend Oreille and Kootenay Lake for both the giant Gerrard Rainbows and big bull trout. It is, in my opinion, one of the most exciting ways to catch both of these big pelagic trout and char.
The technique involves the use of large, dual planer boards run off a mast system that allows for fishing as far as 150 feet out from the boat. I built my own, but you can purchase them from Big Jon and some other companies. On the mast, usually mounted on the gunnels mid-boat, are large planer reels ( I own a set of Big Jons ) filled with 150 Lb. nylon line to allow the board to reach the length of lined spooled out. The boards working the chop will put an enticing action to your fly or lure that is attached to the line with releases similar to downrigger releases but much smaller. Scotty makes one that is actually metal shower curtain rings with a release slid onto it that works extremely well.
Planer Board
There are variations on the boards that include big water boards for rougher high chop from windier conditions and "flat water" boards which can impart action to a fly without much chop at all. I recently ran a board from Shoo Fly Fishing Company out of Montana that worked as well as any I have ever used. It is a flat water board but can be used on choppy water up to a couple of feet which produced a monster 22 LB. rainbow for my buddy, John Werwie on my most recent trip to Kootenay! It was our maiden voyage with this board, but it performed beautifully throughout a myriad of weather conditions on our trip.
The beauty of the system is that it allows you to run multiple lines (as many as are legally allowed) out from the boat to cover a lot of water. You stagger the line setbacks at different distances ( starting farthest back on the outside) and then keep them approximately 20-25 feet apart as you control where they are on the planer line by your reel. Because the top of the mast starts at 6-8 feet off the water at the boat and then tapers on down to water level at the board, the shower ring release slides easily down hill with the reel bail open until you reach the desired spot. We have run as many as (4) lines off one board. As the boat spooks fish out to the side from it, your lures or flies will then be offered to them. Believe me it is a deadly technique for trolling!
I started back in 1990 by dragging Apexes or "hockey sticks" as they like to refer to them up in Canada. They have produced several large rainbows for me including my best, a 21 LB. hen from Pend Oreille back in 1993. Pro-Troll's ELure also produced some big Kams for us when they came out a few years back. But undoubtedly, what spins my top the most, is "pulling hair" as many refer to the technique of dragging large buck tail flies off of boards.
Kootenay Lake Flies
There are many flies tied by several companies but I like the Split-Shot fly that Mike Thompson ties (from the guide service of the same name) and the Kootenay Fly Co. buck tails by Brownie. I have caught lots of large rainbows on each. The secret to fishing these flies comes down to one important factor; the proper tuning of the fly. You can adjust the fly to its best running ability by adjusting the upward stinger hook and/or tweaking the body hook. If you get them to run absolutely true and straight ( fly doesn't roll to one side) when jigged at trolling speeds of 2.5-4 m.p.h., you will be much more successful.
Planer boards offer a great way to spread your gear out and also provide a great way to target weary trout by moving your offerings well away from the boat. It's a technique that I've grown to love and have I've learned that planer boards can work in many locations, not just the places where they've become so popular.
For more information on this technique, be sure to read my fishing report on Kootenay Lake. Also check out "Kootenay III" which chronicles our epic, two week trip last November that produced 11 rainbows from 13-19 LB.! It is a good read with some heart stopping action on the big Gerrards. You won't believe how much line these toads can burn off a reel in one run! An incredible trip we will never forget!