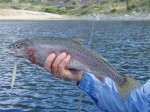 In my personal quest for trophy trout, I have had deep desire to catch a lahontan cutthroat in the 10 Lb. range for several years now. Though I haven't spent as much time as I should to really have a chance to make this happen, I have ventured down to Pyramid Lake, Nevada a couple of times in the last 15 years to pursue them. With Pyramid owning the World Record for lahontans at a 41 LB. fish from over 70 years ago, it is the likely lake to target for big cutts. In the past 20 years, the really big cutts ( over 20 Lb.) have all but disappeared. That being said, it still produces many lahontans over 10 Lb. each year.

While working the Sportsman Show in Portland this past winter, I meet Joe Warren, an outdoor writer and accomplished fly fisherman from Carson, Washington. When we met, I recognized that gleam in his eye when the subject got around to trophy trout. It usually doesn't take too long for "trophy trout junkies" to recognize each other. In the course of our conversation, Joe mentioned a lake in his state that holds significant numbers of lahontan cutthroats and also the state record at 18 LB. 4 oz. Omak Lake is a high alkaline lake that sits on the Coleville Reservation and has been stocked with cutts since the late 60's. Earlier plants of rainbows and brook trout didn't survive but the lahontans, that do well in alkaline waters, thrived there.


The record cutt came back in 1992 when Dan Beardslee caught it on opening day of catch-and-keep fishing, July 1. Dan had caught the previous lake record just the year before with a 14 LB. 1 oz. cutt and was "lucky" enough to do it again! As it turns out, Dan had been targeting the lake record for several years and had a system using downriggers to target them in the thermocline when the trout are somewhat captive to this stratified layer of water that holds both the optimum temperature and oxygen during the warmer summer months.

THE TRIP IS PLANNED

Joe really got my juices flowing after he shared some of his experiences of catching some big cutts during trips in the late winter and early spring. The cutts are more susceptible in shallow water that time of the year. He and his buddies were stalking the bigger cutts fishing flies on the flats and along drop offs when the water temps were more inviting and the spring spawning cutts would be more susceptible and predictable. He later showed me photos of some fish over 30 in.! We kicked around the possibility of doing a trip together during the summer and agreed to follow up on it later in the spring. After a few stabs at different dates that would work for us both, we decided to hit it in late July after I got back from one of my annual trips to California. We were both really excited about not only getting to fish it together, but in getting to know one another a little better.


The tough call for me was whether or not I should bring my oldest Grandson, Colin, along since he had just come back with us from California for his annual summer stay with Grandma and Grandpa. It was tempting but I thought it best to keep the trip to just Joe and myself since this would be our first trip together and my first time at the lake. I headed out from Bend on a Thursday morning and according to plan, would meet up with Joe just over the Columbia River on the Washington side around noon. We then left his rig there and made the drive to Omak in my truck with the boat in tow. From that point, we were about 5.5-6 hours away. The weather that was supposed to be near record highs at over 100 degrees, was changing slowly as we got closer to our destination. As it turned out, a front had moved into the interior north/central part of Washington that the meteorologists had completely missed. When we pulled into town, the clouds and wind had cooled the temps down into the 70's ( not necessarily a bad thing) and then a storm started dumping some significant rains as we sat at the KFC for dinner. Omak is a little town about 7 miles from the lake and we had reservations at the Rodeway Inn which provided comfortable and affordable accommodations. It felt great to fall onto the bed that evening after almost a whole day on the road.

THE FIRST DAY

We got up at 4:30 to make sure we would be on the lake at first light. The ramp where we launched was at the north end of the lake and probably the best of the three on the lake. That area is somewhat wind protected and has a concrete ramp that is damaged but usable. There was a dock about 50 yards away at a sand bottom ramp that provided easy access on and off the boat. Luckily, Joe has had experience fishing the lake so we started up at the north end and immediately graphed some large marks in deep water from 80-140 feet deep. We went up wind and started back down through them and, as best as I remember, we only had one fish that came from the deeper trolling drill and it wasn't the bigger fish we were marking or hoping for. The weather change that occurred the day before was bringing more wind than we would have liked when trying to slow troll spoons at 1.75-2.00 mph and be able to maintain boat control. One thing I have learned over the years while trolling with downriggers.....the less wind you have, the better off you are. We were able to clearly see the thermocline very distinctly on the graph. Probably the best I have ever experienced it with my trusty older X-15 Lowrance. As antiquated as it has become, since I purchased it on the V.I.P. program from them when the boat was built in 2001, it is a very good graph that has fairly high resolution and I am completely used to working with it.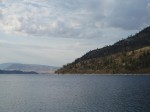 I had brought along a couple of Michigan Stinger spoons from the Great Lakes region that Terry, one of the owners, had sent me a while back. Actually, it was almost two years ago and I hadn't really given them a fair shake for any trout. I knew from my earlier experiences at Pyramid that lahontans will readily hit spoons. After we dialed the the action we wanted to the speed, we set them up in the general thermocline range that was around 40 feet in most of the lake. Occasionally it looked like it was around 50 feet and we would adjust accordingly. Most of Joe's experience at the lake on past trips had been working the shallower south end of the lake and that, for the most part, was during the late winter through the spring when the water temps were more consistent top to bottom. Their main drill was working flies on the flats and around the first break line. From the photos that Joe had shown me, they were very successful on some big cutts to over 30 in., as I mentioned earlier.

The spoons turned out to be the hot ticket. I was so impressed that I called Terry to let him know how they worked and see if he could get me some more when I got home. I will be trying them out for browns and Macks in some of our Central Oregon waters during the remainder of the summer and fall. They were deadly! The other lure that I had some good action on was the 5.5 E-Lure from Pro-Troll in the pearl pattern. The speed range on those is fairly wide and I could pull it with the slower spoon speed and all the way up to around 2.75 mph and still nail some cutts on it.

We spent a lot of the first day getting a pattern worked out and even went down to the south end when the wind came up pretty good. It was actually a little to rough to fish under those conditions and we retreated back to the more protected north end and started connecting fairly regularly. Most of the cutts were running from 17-20 in. and were beautiful! I can't remember just how many we hooked and released, but my guess would have been around 25-30 fish that first day. Remember that we were scouting the lake and had some strong winds we didn't fish in, so that wasn't too bad an outing. The next day would prove just how productive this lake can be and we did keep an exact count!

DAY TWO


We arrived early again the next day to much better weather conditions and had developed a drill that we thought would put us on fish with some regularity. With far less wind, we fished down at the south end and had a very productive day to say the least. How about 60 fish between the two of us! Amazingly, our numbers were almost equal......Joe caught 29 and I had 31. He actually would have caught more but wanted to experiment with some of his personal custom tied flies off the downrigger. They were effective but not as much as the spoons. We seemed to catch fish everywhere. Joe put us on some specific shoreline that had been productive for him on previous trips. It seemed like we couldn't do anything wrong. Except for a downrigger problem that developed and I eventually resolved, it was almost a perfect day! The highlight of the day for me was this 24 in. cutt that turned out to be the longest fish we caught of the 100 plus fish we hooked and released during our stay.

We didn't really connect on any of the bigger cutts that we had hoped we would run into, but the shear numbers of fish were amazing. I would have to say that it is a very under fished lake from what I observed. I think we counted five boats on the lake at the most. I could only imagine how beautiful it was in the spring with the abundant greenery that develops during that time of the year. That and the shot at a really big cutt will probably be my motivation for a return trip.


On the final morning, we hung around the north end and did some experimenting. I tried some deeper water trolling with some Kootenay bucktail flies around 4 in. long and was impressed with how well they worked. Joe got a nice 22 in. cutt that was his largest for the trip and we stuck another dozen fish in about three hours that third morning before we got off to make the long journey home. It was a great trip and though we didn't stick any real monster cutts, I am sure they are in there. The 14 and 18 LB. record fish attest to that.

Screamin' Drags,

Rick