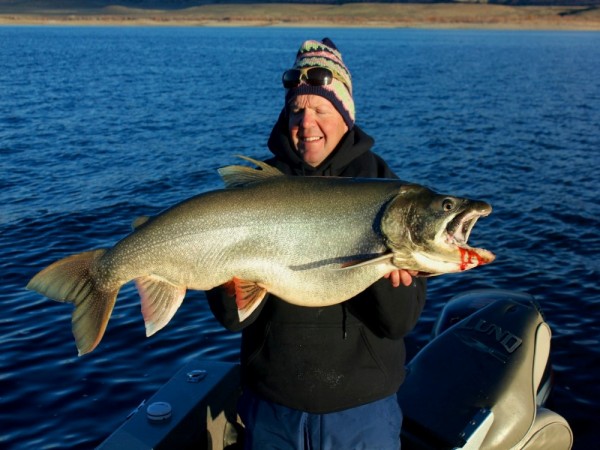 A beast of a 32 LB. lake trout. One of the biggest of their trip. Photo courtesy Mike Sadar.
I first met Mike through a taxidermy client, Jim Schmid, when the two if them returned from a guided trip to Lake Diefenbaker fishing with the twins, Sean and Adam Konrad (aka. The Fishinggeeks) Mike had us do a 30 LB. rainbow for him after Jim got his 26 Lb. rainbow mount back. Over the past few years, Mike has done a couple of other mounts with us and also been a TTG contributor with his great articles on "top of the world" fishing trips he has been fortunate to have taken.
After a phone call today to fill in some of the blanks, it is my pleasure to do this profile of Mike and his fishing prowess as a certifiable trophy trout junkie! Mike has been able to take trips to the best trophy trout waters in the world to fish for many species including lake trout, brown trout, rainbows, lahontan cutts, brookies and recently to the Northwest Territories to fish for the biggest artic char in the world in the Tree River. He has been "living the dream" when it comes to pursuing monster trout and char!
Growing up in small community of Leadville, Co. Mike was introduced to fishing at an early age by his dad. The big trout bug bit when he was 11 and caught his best trout to date at 24 in....that was all it took to set him on the path of chasing after bigger trout. He became an expert at cross country skiing into many of the small mountain lakes that held some large lake trout and did a lot of ice fishing for them in the winters. He said it took a few years until he hit the ceiling on lakers at 9 LB. His goal was to get one over 10 LB. At 16 years old a drivers license and the ability to branch out opened the door to many new lakes for him.
His most memorable big trout outing of his teen years was after he had planned on when and how to target the big lakers of Twin Lakes. He and his dad caught lakers of 17 and 28 LB. on that trip and he was hooked. His big trout education was furthered by his connection with Del Canty, an older and very famous trophy trout angler that also lived in Leadville. Mike said that both Del and Joe Butler had opened his eyes to what could be accomplished if a guy set his mind to it.
One of his best local lakes for Browns and cutts was Spinney Mountain where he first caught species over 10 LB. from each. By now he was deeply entrenched in the pursuit of trophy trout.
Mike has been tying flies commercially for Buckhorn Sporting Goods for over 30 years now. He also became R&D director and worked for a large company that engineered and developed instruments for water quality testing. Those endeavors, an understanding wife, and a plan to target monster trout have allowed for him to fish at some of the most exotic and best big trout waters in the world. Stuff most guys could only dream about!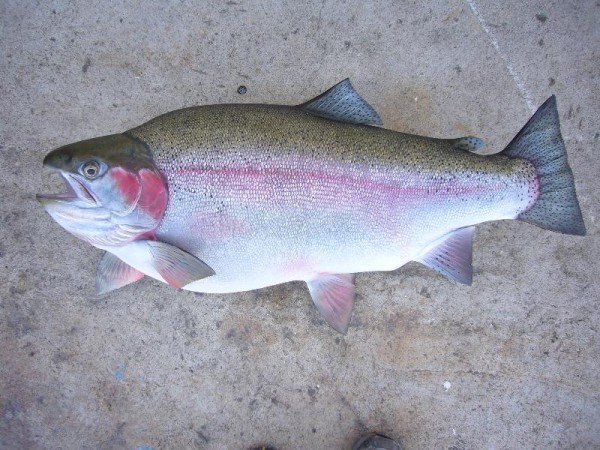 Mike Sadar's 30 LB.+ Diefenbaker rainbow mount. What a monster!
To cherry pick some of the best of them, I know that he was able to bang some big sea-run browns at Tierra Del Fuego from the Rio Grande River to 23 LB.. The trip also included a stop to fish Jurassic Lake for its huge rainbows and he and his buddies caught rainbows to over 17 LB. Talk about a dream trip!
On trips to Labrador he has caught and released giant brookies to 8 LB. and is planning on a return trip to see if he can break through the 10 LB. barrier......no small task! His pursuit of big browns stateside have taken him to Lake Ontario where he has caught big hen browns to over 20 LB. from Oak Orchard, a tributary on the great lake.
Closer to home, he hits Flaming Gorge often to tackle the big lakers that has made this big reservoir the premier mackinaw lake of the United States. His latest trip was to Great Bear Lake this past summer to tangle with big lakers and then a side trip to the Tree River for monster Char. His trip produced a really big char to 26 LB. and a slightly bigger than average (for that lake) lake trout of 40 LB..
When we talked this morning about future trips, I asked about the possibility of going for a large taimen in Mongolia. He said that and a return trip for a monster brook trout to Labrador were in the works. I am only slightly jealous and envious. Winking smile
His trips to Lake Diefenbaker, over the last several years, have produced a couple of big bows around 30 LB. and we have mounted both of those for him. We also did a 36 LB. lake trout mount from Flaming Gorge and will be doing his 26 LB. monster char for him later this year. His future mount projects include his 23 LB. sea-run brown and maybe that 10 LB. brook trout if he can pull that off. I wouldn't bet against him! He will have a "trophy mount wall" to die for when we are done.
Mike has been able to do what most of us only dream about.....catch some of the biggest trout species in the world from the premier locations they inhabit. As you can see by some of the photos I have of him, he has been extremely fortunate to catch some toads of many species!
My hat is off to you my friend!
Tight Lines,
Rick