I fell in love with the pursuit of the giant gerrard rainbow trout back in 1990 on my first visit to Lake Pend Oreille in Northern Idaho. I was prompted by reading an article about these monstrous trout in an old copy of Outdoor Life back in the early 1980's. I knew I had to take a shot at catching one of these oversize salmonides some day. That opportunity came when an old school chum invited me up to fish with him. That trip produced rainbows of 10.5, 11 and 16 LB. That was enough for me......I was hooked!
Over the years, I have have made several trips to PO with my best rainbow coming back in 1993 when a friend and I hit the jackpot with gerrards going 9, 18, 19 and 21 LB.! One year I would have won the Thanksgiving Derby with an 18 LB. male but wasn't entered on the first day of the derby and final day of our trip. You can see the video of that catch and release on our video file page ( 18 LB. Rainbow).
In recent years, PO has had many problems with dwindling kokanee stocks and predator problems that has lead to a decline in the large gerrard rainbows that made the lake famous with the World Record caught back in 1947 by Wes Hamlett. It will take some time to see if the giant rainbows will return to form.
Prompted by the success of some friends that had fished Kootenay Lake, John Werwie and I ventured up to the massive lake back in the fall of 2007 to sample the fishing (read "Kootenay Fall 2007" on the articles page). Though we didn't catch any of the oversize trout ( Did get 2 over 10 LB.), the whole experience and beauty of the area had us under the spell. We both knew we would return to hit the lake again.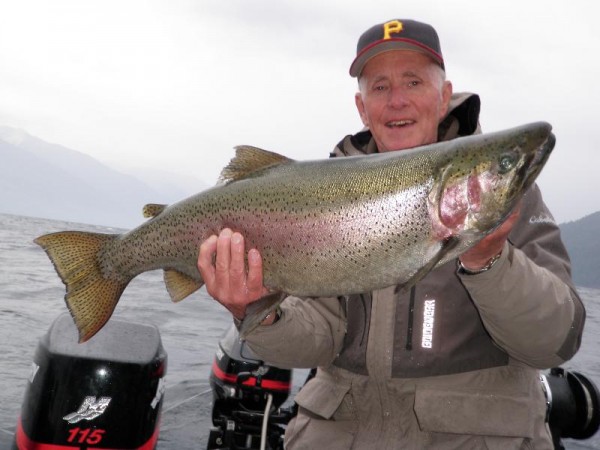 John's big male rainbow... doesn't get much better than this!
Click to view image

Since then the lake had problems with parasitic worms that decimated the larger bows and they disappeared for a few years. This past winter saw the return of decent numbers of bigger trout and several over 20 LB. showed up in some angler catches. The spawning run up the Lardeau River, where the majority of gerrards spawn in April and May, produced a count that hadn't been seen in 30 years! May and even into early June produced many rainbows exceeding 20 LB. This looked like the year to go! John and I talked about it in the spring and half-heartedly planned a trip for the fall. With news that the fall bite was off to a great start back in Sept., that was all it took for us to pencil in the trip for early November.
I booked a stay at the Cedars Inn for a week and a half stay and we got out of town on the last Sat. of Oct. During the planning stages, I talked with both Brad Stubbs of Kootenay Kingfishers and Mike Thompson of Split-Shot Charters about the possibility of fishing with them both if they had any openings. They were very gracious in comping us trips for a day with each of them. I will get into that a little later.
What you are looking for in your pursuit of the giant gerrard's is surface temps either rising to the 50's in the spring or falling to the 50's in the fall. That usually occurs in April/May or Oct./Nov. each year. They respond better in general to overcast skies with some degree of wind chop for your best action. Probably the most enjoyable part is just how most of the trout are taken. Most anglers at both PO and Kootenay will pull the larger double planer board's and drag big bucktail streamer flies ( 4-5 inches) 250-300 feet behind the boat. The action imparted by the dancing board line, as the boards buck along in the chop, will jig the flies in an enticing manner that the big bows can't resist when the bite is on. The other popular lures are Apexes and Pro-Troll Elures in the 4.5 size. Darker patterns or UV stuff on the overcast days and brighter lures on the sunny days. There are other lures that will work well in the winter when water temps drop but I will stick with the "prime time" drill of the spring and fall surface bite in this article.
When the bigger fish hit, the line is popped from the planer board clip and if the drag is set properly, the scream of the drags will have your heart pumping and adrenalin flowing! The guides call them "screamers" when a really big fish takes off. It is not uncommon for these monster trout to smoke 300 feet off in one long run. I have never had a trout fight so hard and even the big ones can jump 3-5 times clear of the water as they attempt to shake the fly or lure. Truly amazing stuff!
On our first day out, we got into a few shakers but nothing to write home about. The following day, was something I will never forget! Mike Thompson had a crew of about 4-5 guys out for the day. Conditions were perfect with completely overcast skies and light rain falling intermittently. There was a good chop on the water and we didn't see the sun all day. We thought we had a good day with 10 trout landed and John got the first big trout on the board with a nice 10 Lb. hen. The amazing story was the action the Split-Shot crew had going on. John and I watched as Mike's boat would stop to fight a fish and then the clicking and flashes of the camera's told you they had caught a decent trout ( over 10 LB.) When all was said and done, Mike had boated 15 trout over 10 LB. up to 19 LB.+ and had lost at least two other "screamers" that one can only speculate about.
The following day, we met Brad Stubbs at Woodbury Marina for a day working the northern area from Kaslo to the power lines north of Kootenay Bay. The weather was not what you want to see with fairly clear skies and little to no chop. Brad did a great job of putting us on about 6 trout, mostly shakers, with the biggest being a 12 LB. hen that Dink took off a colorful fly that Brad had just put out. Check out the video of the end of the fight. It was a fun day with Brad!


The next day, we were booked with Mike Thompson and two of his friends to fish the West Arm area for the day. Again the conditions were not conducive for a great bite. It was even calmer than the day before with full sun for most of the day. We did get into some nice fish though with Doug catching a 12 Lb. hen rainbow and I got into a 10-11 LB. bull on my turn with the rod. Everything else was in the shaker class. Beautiful weather and a great time with Mike, Dave, John and Doug.
The next morning we were back to our own drill and better weather. The rain and wind chop worked to our advantage as the "Dinkmeister" stuck a gorgeous 16 LB. hen early that morning on a dark fly with UV tinsel. After some photos, we dropped her back to get really big.....maybe we will see her next year at over 20 LB.! We had a good bite that morning with John hitting an 8 Lb. hen and then I lost one about the same size in a quick release right at the boat.
The highlight of the trip came the following day as Dinker and I were running head long into a high chop as we pushed south right out from Trestle Bay. In fact, the swells got big enough that I decided to turn and head back down wind to relax a bit and ride the swell. As we were making a turn, John's rod popped out of the release and I was standing right at his rod and handed it to him. Just as I did, the drag started to scream and we were "off to the races." We knew it was a good fish the way he fought. Good thing I had made the turn.....it allowed for easier steering going downhill with the wind. I dropped my speed and watched John wrestle his big buck rainbow for at least 10 minutes before I slid the net under the 32 in. male that bounced the scale to almost 18 LB. This turned out to be John's biggest rainbow of the trip and he decided to mount it with me.
Other than the 10 LB.+ bull taken earlier in the week, it was looking like I might not get onto the board with anything over 10 Lb. We had decided on Sunday to add another day to our stay and on Tuesday, our last day, I finally picked up a nice buck gerrard a little before 8:00 a.m. that hit 14 LB. on my scale. Later that evening, to cap a nice trip, John and I put identical 8.5 LB. hens in the boat during the last hour of light.
It was a great trip with (6) trout over 10 LB. John caught rainbows going 10. 12, 16, and 17.5 LB. My best were the bull trout and the 14 LB. buck. All but the big one John caught were released. On another note, Mike gave me one of his clients 23 LB. buck gerrards to mount.......should make a spectacular mount.
For your fishing license, flies, lures, and current fishing information, be sure to stop by and see Randy at the Gill & Gift in Balfour. They have all the latest information and a great tackle and gift shop.
Before we even ended our stay, we were already talking about a return trip next spring. Looks like Kootenay Lake is on a big comeback for rainbows. Next year might even be better!
Screamin' Drags,
Rick