Henry's Lake, in the southeast portion of Idaho, sitting at an elevation of 6,472 ft and with 6,500 surface acres should be on the "to do" list of trophy trout enthusiasts. It offers the best chance in the country at a trophy Yellowstone Cutthroat, and has big Brook Trout and giant Cutbows as well. In fact, it is home to Idaho's State Record Brook Trout, a 7Lb 1 ounce brute that was only 23 inches long. That fish must have looked like a football!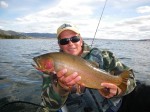 Henry's routinely pumps out some very large trout. It is one of the countries most prolific stillwaters in trout growth. It is one of those beautiful fisheries where trout can grow an inch a month when conditions are good. It is a very shallow weedy lake full of insect life and other invertebrates. It once was a natural lake when white man first arrived on the scene, but currently has been enlarged by a small dam on the lakes south east end. It may have been a good thing for the trout that lived in Henry's Lake, as the lake was only about 5 feet deep and was at the terminal end of its life. If not for the dam, Henry's Lake would likely be known as Henry's Marsh today.
So, I've heard about Henry's Lake for sometime, and I've really been wanting to fish it and see if all the stories are true. I arrived at the lake in the last week of September and planned to fish it for approximately a week. Historically, this is a good time to hit Henry's Lake. The fish are moving out of summer lethargy and actively feeding. The lake is so shallow that during the summer the trout sulk as they have no thermal refuge. There are a few cold springs in the lake, and the trout are definitely concentrated around those areas, but weed growth can make fishing tough. For best success, think of Henry's Lake as a spring and fall fishery. During prime time, the fish can be found feeding near big weedbeds that are common throughout the lake. On a good windless sunny day, you may actually see trout swimming around the weedbeds in Henry's clear waters. When it's windy, which is pretty often, the visibility goes down and you won't visually see trout.
Henry's isn't a dry fly fishery. For whatever reason, the fish don't look up. We saw quite a bit of insect life on the surface, but the trout don't care. They are much more concerned about emerging insects and big fat leaches. Really, they are mostly concerned about the leaches. I've never really watched a leach swim, but I wouldn't assume they swim very fast. Counter intuitively, the fish prefer a fairly quick retrieve. Perhaps, it is a fast moving prey item that elicits a reaction strike. This bodes well for guys who don't want to use fly gear. In fact, you can do quite well with trolling gear. I was primarily using fly gear, but I also did a little trolling with my fly gear. I didn't bring any leadcore, but I wish I would have. A hundred foot mono topshot followed by a color of leadcore would have been very effective. I didn't find the fish to be very boat shy, so a longer setback wouldn't seem necessary. For best effect, hold your rod and give the fly some short pulses. Gradual 6 inch speed ups and slow downs were very effective with the fly rod, as they also should be with a leadcore setup.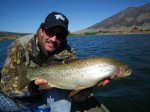 Fly selection should be based on the forage you are trying to match. Leaches can be imitated by Wooly Buggers, Simi Seal's, and other leach based patterns. The hot colors were olive and cinnamon, and the triggering factor was a rust orange tail. We mostly used size 6 and 8 flies. As far as nymph patterns go, generally buggy patterns worked good. Nothing has to be dead on, just suggestive. We used fairly large nymphs in the size 12-14 range, and Pheasant Tail's and Hare's Ear's did best.
The most common practice on Henry's is to find fish and then anchor on them. That is exactly what we did on our first day at the lake. We had just put in and motored away from our make shift launch. My buddy, Vance, and myself were able to man handle my 12 foot Jon Boat into some launches that only pontooners and float tubers could use. So, we were able to launch very near the hot areas. After a short run of about 2 minutes, we were in the hot spot. I killed the motor, stripped out some line and began casting. On my second cast, I felt unexpected weight on the other end of the line. A nice fat 19" Yellowstone Cutt had eaten my Simi Seal Leach. I was feeling pretty good about my early success, there is no better way to break the ice than early success. Right after that, I made another cast, and I noticed a big swirl not 20 feet from the boat. I quickly stripped my fly in and cast right where the fish swirled. I stripped a few times and something felt wrong. It wasn't a hard take, but instead felt like I had grabbed moss. I decided to set the hook just in case... good move. The fight was on! On my fourth cast of the morning, about 5 minutes into the first day, I had a big Cutbow or "Hybrid" as they call them in Idaho on my line. I had heard that the "Hybrids" were strong, and that was no understatement. Several times, the fish took off and managed to take quite a bit of line off my reel. I had my 6 weight rod bent as much as I dared and I hoped the 6Lb fluro carbon wouldn't break. Several times during the fight, I found myself wondering when the fish would give up. Luckily, with a little patience the line didn't break and the hookset held. Vance slid the net under my first Hybrid, and it was a beauty, a little over 24 inches and around 6lbs. This was to be the beginning of an incredible week of fishing. Later that day, our host Shelly Smith landed her biggest Hybrid to date; a beautiful 28 inch 8 pounder. It was nothing short of an epic fight, including some anxious moments at the end. We could see that big silver fish flashing dangerously near the weeds. Another friend of Shelly's insisted on netting the fish with and undersized net. Eventually I had to basically tell the guy to get that ridiculous little net out of there. It would have been a botched net job for sure at the hands of an overzealous net man. I had a salmon sized net on board, and I made the final scoop for her. She was one happy fisherwoman, shaking just like I would be.
Henry's Lake fish are notoriously heavy per inch. You could easily hit ten pounds at 26 inches. On my home water's of Pyramid Lake, in most cases it takes 30 inches to hit ten pounds. Henry's lake Cutbow's are some of the girthiest salmonids I've yet to see. The Yellowstone Cutts are healthy fish, but they don't get quite as girthy as the hybrids. Their beauty more than makes up for it.
On day two, Vance scored with a big Hybrid of his own. A very nice 23 inch 5 and half pound football. That fish also put up an incredible fight. Vance hooked the fish on very light tippet material as he was fishing with small nymphs under an indicator. It was an uneasy moment for me as the net man. Vance couldn't reel up any more, as his indicator was right at his rodtip. He had to pull all he dared and guide the fish towards the net... not easy with a light tippet.
Somewhere in the middle of the week, we encountered another trophy fish of Henry's Lake. As mentioned earlier, Henry's kicks out some big Brookies. I would say the chances of a 3+ pound Brookie at Henry's are as good as any lake in the western United States. After catching a lot of nice Yellowstone Cutts, and few nice Hybrids, we were really hoping for a nice Brook Trout. Vance managed to get that fish for us. He was indicator fishing once again, and his indicator shot under and took off. The fight was on and he thought he had hooked another big Hybrid. What he really had was a 20 inch Brook Trout around 3 Lbs that had manged to get wrapped in his leader. The fish was really able to pull as it was fighting like it was foul hooked. When we finally landed the fish, Vance was very happy to get his new personal best Brook Trout.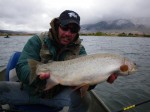 After a few days of beautiful weather, the forecast did a dramatic change. We got shut out for the first three quarter's of one day. The wind was blowing 30 miles per hour and snow was coming down sideways. Needless to say, we didn't put the 12 foot Lowe in he water until conditions subsided. On the bright side, you are only about 40 miles from Yellowstone Park, so sight seeing is a good option on days where the weather doesn't cooperate. We did manage to get the boat in and do a little fishing in the afternoon. It was miserably cold. Ice was forming in our rod guides, our hands were bright pink, and dexterity was poor. Luckily, the fishing was very good. I immediately got a 21 inch Hybrid, and we also got a few Yellowstone's. Our other host, Bruce Smith came out, and began to show us what homefield advantage is all about. He paddled his pontoon past us and began catching about 3 fish to our one. He also landed a nice Hybrid in the 6 to 7 pound range. He signaled us over to a hotspot he had found, and we had a triple hookup. The best part of the triple hookup was the fact that Vance had a 6 pounder on the end of his line. The fish put up a spectacular fight, as Henry's Lake Cutbow's do, and we were very happy to get him in the net. After that fish, we were so cold we had to call it. It was snowing lightly again, and the wind had picked back up. Vance was so cold when we got back to the truck that he was slurring his words, his face was purple, and I thought he might be getting hypothermia.
Luckily for us, that was the worst weather for our trip. The rest of the week was cold but tolerable. For the next two or so days, we didn't land anything of consequence. Our pattern broke down, and we had to change up our game. Trolling became the hottest way to catch fish. Which brings me to fly line selection on Henry's. You want to use a sinking line, but the amount of sink is determined by the amount of drift. If you are drifting quickly, you will need a line that sinks faster. If you are on anchor, a slower sinking line works fine. I was using a type two line that sinks at 2-3 inches per second. Our host, Bruce Smith, usually uses a type three sinking line. It sinks faster which generally meets his fishing style. Every time I saw Bruce, he was kicking his pontoon, rarely stopping to anchor. He catches more fish than anybody, so what he does works. Bring a class two and a class three, and you should be set for all situations. If you are using leadcore, try letting out more or less colors.
On our last two days of our trip, we experienced some of our best fishing. We didn't catch as many fish as we did earlier in the week, but we got some of our best. I landed another big Hybrid that fell for a trolled Bugger', and Vance poached a 6Lber off my rod as well. The fish that really stood out was a fish that first appeared to be another average Cutt but was far from it. It was the second to last day of our trip, very early in the morning, and we were trolling along when I get wacked. I fight the fish, and it just kind of lazily comes in. As the fish gets nearer the boat it decides to fight. I could obviously tell it wasn't a big Hybrid, but I figured it was a pretty good sized Yellowstone. When the fish got about twenty feet away, I noticed it was kind of olive in color. "Holy Crap, that's a Brook Trout!" I told Vance. Mind you, it was very early in the morning, we had just put in, and I told Vance "Get the net ready." That is when a problem came up, the net was buried under my ice chest and hung up on the gunnel. Getting the net out wasn't an option, and I decided I could belly land the biggest Brook Trout I've ever seen. It was easlily 21-22 inches and probably pushing 4 pounds. So, I reached my hand under her belly and began to raise the fat hen, as she came out of the water, she did one last headshake and broke my tippet. She went back into the water and sat there stunned for a second. She then took off like a rocket, my fly still stuck in her mouth. Heartbreak.
Later that morning, Vance hooked a fish that took off and broke him off in a weedbed. Despite the fact that he put as much pressure on the fish as he dared, the fish just wouldn't turn around. He was left a shaking shell of a man.
On the bright side, we both landed our biggest Yellowstone Cutts of the trip. I landed two twins that were 22 inches a piece and extremely girthy. Vance, landed his biggest Yellowstone Cutt to date, a long, skinny big headed buck of 23 inches.
On our very last day, we were anchored in the famous Staley Springs area of the lake. There is a cold water spring there, and lots of trout like to hang out there. We had been casting for about 20 minutes and were getting ready move due to lack of action. I was getting antsy, but I made a cast that was the biggest heartbreaker of the trip for me. Somewhere about half way into my retrieve everything got "soft" as I call it. I've caught a lot of 7-8 pound cutthroat on the fly at Pyramid, and they have a distinctive way of taking the fly. You'll be stripping along, and all the sudden it feels like there is nothing there. I attribute it to the fish grabbing the fly and swimming with it a foot or two. Of course, you strip once or twice more and realize something is amiss. I stripped once more and realized a big fish had eaten my fly. I set hard and immediately got a huge headshake. I would say my rod moved about a foot side to side. After that big headshake, the fish took off right into a weedbed and snapped me off.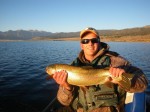 I sat there shaking, very aware that I had hooked a very large Hybrid, and it had snapped my tippet like gossamer thread. I believe that fish was probably at least 7 pounds, but I'll never know.
I'm already planning my next Henry's Lake trip. If you are interested in hooking beautiful Yellowstone Cutthroat, trophy Brook Trout, and heartbreaking Hybrids, I would suggest you do as well. Set your sites on early October and you may have a chance at a double digit fish