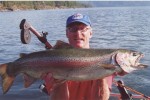 THE KOOTENAY LAKE BIG FISH REPORTS HAD BEEN QUITE SLOW OVER THIS PAST WINTER AND SPRING. WE THOUGHT ABOUT OTHER ALTERNATIVES, BUT SINCE THE RAINBOW IS POPS FAVORITE, WE STUCK WITH OUR ORIGINAL PLAN TO FISH KOOTENAY.
MY FATHER INLAW RUDY (WHO IS 82 YRS OLD), AFTER SEEING AND HEARING THE STORES OF THE BIG RAINBOWS THAT WERE CAUGHT ON PREVIOUS TRIPS DECIDED HE'D LIKE TO JOIN US. SINCE WE GET ALONG SO WELL TOGETHER, WE WELCOMED HIM WITH OPEN ARMS.
BUT I DO HAVE TO ADMIT, I WAS A LITTLE MORE THAN NERVOUS, TAKING MY DAD WHO IS 84 AND RUDY AT 82 ON A LONG 10 DAY FISHING TRIP (TOWING OUR BOAT OVER 1100 MILES FROM HOME). MY DAD AND I HAVE BEEN CHASING THE BIG ONES FOR QUITE A FEW YEARS BUT RUDY I WASN'T SO SURE? I CAN HANDLE ONE BUT TWO OLD FARTS ON A 10 DAY ROAD TRIP?
AS YOU KNOW A LONG FISHING TRIP CAN TEST AS WELL AS DRAIN YOU: THE HOURS OF PREPARATION, THE LONG HOURS BEHIND THE WHEEL, THE LONG DAYS ON THE LAKE, THE WEATHER, ROUGH WATER, UP AT 3:30AM AND TO BED AT 10:30PM, BATCHING IT FOR OURSELVES, INCLUDING TWO TRAILER FLAT TIRES AND ONE DOCTOR (ALMOST TWO) VISITS TO BOOT.
BUT TWO FACTORS WERE WORKING TO OUR ADVANTAGE: FIRST AND MOST IMPORTANT (ACTUALLY ESSENTAIL) WE GET ALONG WITH EACH OTHER VERY WELL. SECONDLY, THE THRILL OF HOOKING BIG FISH HAS A WAY OF WORKING WONDERS ON YOUR MORALE AND SMOOTHING OUT THE BUMPS IN THE ROAD.

AFTER THE LONG TWO DAY DRIVE IT FELT GOOD TO FINALLY BE ON THE WATER. TO OUR SURPRISE WE DIDN'T WASTE MUCH TIME, WITHIN A COUPLE OF HOURS WE CONNECTED WITH A BEAUTIFUL 13LB 5 OZ RAINBOW, THAT PUT ON A WILD REEL PEELING, TAIL WALKING FIGHT, TYPICAL OF THE GERRARD RAINBOW. THEN TWO DAYS LATER WE CAUGHT A 16LB 2 OZ RAINBOW. MAN DID THAT PUT US IN A GOOD MOOD!
WE DROVE THE 1100 MILES FOR THE BIG RAINBOWS… BUT WE WERE IN FOR A BIG SURPRISE… A DAY LATER WE HOOKED AND LANDED A BIG BULL TROUT THAT WENT 34 INCHES AND 17LBS 15OZS WOW! WE WERE REALLY ON A ROLL AND WOULD HAVE BEEN VERY HAPPY AND SATISFIED WITH THESE THREE BIG FISH, EVEN THOUGH WE STILL HAD TWO MORE FISHING DAYS LEFT.
THE WEATHER TURNED UNUSUALLY WARM FOR THIS TIME OF YEAR, TO NICE, TO SUNNY AND CALM FOR THE BEST FISHING. BUT ON OUR LAST DAY, THE LAST EVENING, OUR LUCK HELD OUT WITH A MAGNIFICANT 36.5 INCH 18LB 6 OZ RAINBOW THAT WENT BALLISTIC… TEARING UP THE WATER, COMPLETELY AIRBORNE FIVE TIMES WHILE PEELING LINE, AT ONE POINT THE LINE COUNTER READ OVER 500 FT AND STILL GOING! (DOUBTFUL? JUST HOOK ONE OF THESE MONSTERS AND YOU WILL FIND OUT IN A HURRY!)
ONE REASON WHY THE BIG RAINBOWS ARE SO POWERFUL AND PUT ON SUCH AN EXCEPTIONAL FIGHT IS THE THINKNESS AND FIRMNESS AT THE BASE OF THEIR TAIL. YOUR GRIP CAN BARLEY REACH HALFWAY AROUND IT. ONE SWISH OF THE TAIL AND THEY'RE LAUNCHED.
AFTER THE HIGH FIVES AND HAND SHAKES, I RECALLED SEEING THE FISH COMPLETELY AIRBORNE AND PREFECTLY SILHOUETTED AGAINST THE EVENING SKY. I THEN TURNED TO POP AND SAID, "DID YOU SEE THAT, IT MUST HAVE COME OUT OF THE WATER ATLEAST 3 FT". POP'S REPLY WAS, "I GUESS SO, THE FISH WAS OVER 3 FT LONG!" WHAT AN ENDING TO A GREAT TRIP, AND WE STILL CAN'T BELIEVE OUR GOOD LUCK AND FORTUNE TO HAVE CAUGHT THREE BIG RAINBOWS AS WELL AS THE BIG BULL TROUT.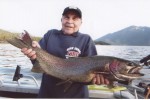 AS YOU CAN SEE FROM THE PHOTOS THE TWO BIGGEST RAINBOWS (BOTH RELEASED) WERE STILL IN THEIR SPAWNING COLORS, JUST BACK FROM UP THE LARDEAU RIVER. THE YOUNGER 13.5 (NONSPAWNER) WAS ALL PRIME, BRIGHT AND FAT. (UNFORTUNATLY DURING THE PHOTO SHOOT IT WAS DROPPED (SLIPPERY) ON ITS HEAD, SO WE HAD TO KEEP IT.)
THE CONSULATION PRIZE WAS THE UNEXPECTED BIG BULL TROUT (ALSO RELEASED). WE TALKED AND SHOWED THE PHOTOS TO A COUPLE OF LOCAL GUIDES WE'D MEET. THEY WERE A BIT SURPRISED AND MENTIONED THAT THEY HAVEN'T SEEN ONE OF THAT SIZE IN QUITE AWHILE. I DO HAVE TO ADMIT IT WAS 100% LUCK; WE WERE TARGETING THE RAINBOWS ALL THE WAY.
THE BIG FISH MADE FOR A GREAT TRIP… BUT FAR MORE IMPORTANTLY, SHARING IT WITH THE TWO POPS: THE REGULAR DAILY ACTIVITIES, THE HIGHS, THE LAUGHS AND EVEN THE PARTLY CLOUDY TIMES… THESE 10 DAYS OF MEMORIES WILL ALWAYS HAVE A SPECIAL PLACE IN OUR HEARTS.
THANKS AND GOOD MEMORIES TO YOU,
GORDON AND THE TWO OLD FARTS