We were asked by TrophyTroutGuide.com if we wanted to do an interview on how Pop and I got started into trophy trout fishing and what we've accomplished. We really appreciated the offer, from such a respectable website, but talking about ourselves makes us feel uncomfortable, it is just not in our nature. After some consideration, we thought, well maybe we could write a story. For what it is worth…
Pop and I did not start trophy trout fishing until eleven years ago, 1996. We got such a late start because, prior to that, we were into trophy hunting; actually fishing was just a fill-in between hunting seasons.
We became obsessed with hunting, 22 out of state trips (many backpacking into rough country) a 31 inch buck, two 300+ bulls, an antelope that just missed going book. We learned to go that extra mile, pay your dues, will eventually turn into success. Our trophy hunting background, basic philosophies and principles, I believe, became the foundation for our trophy fishing success.
Turning our obsession to fishing, in the beginning we just wanted to catch a big rainbow and had not thought about the other species of trout. By chance, during a trip to Rocky Point on Upper Klamath Lake, we meet a fellow fisherman, who was on a quest to catch a 10lb plus trout in the different species, to put on his trophy wall. Yes, we liked the idea! Considering we had never caught a fresh water trout over 6lbs, this seemed like a formidable goal and welcomed the challenge.
"The Rainbows"

Our first goal naturally would be a 10lb plus rainbow from Klamath Lake. We already did the research and knew this was the lake. Fortunately, fishing it on a peak cycle, over a two year period, we caught six rainbows over 10lbs, the two biggest, 12 and 13lbs, would be the beginning of the wall.
I would like to mention, we received a simple but valuable trophy fishing tip from (then resort owner) Denny Rickards. "Find a proven trophy lure for the lake and stick with it. When the big fish come out to feed they will hit this lure. Don't be caught switching around, patience and confidence in your lure".
We left the rainbows for five years in pursuit of the big browns and mackinaw. After adding these to the wall, we had to admit, our Klamath rainbows were looking kind of small. Considering the rainbow is Pop's favorite, we decided to upgrade.
No question it was the famous Garrard rainbows of Pend Oreille and Kootenay Lakes. Maybe a possible 20lb plus! Pop, as a young man, far back as the late 1940's can remember hearing about the world class rainbows, genetically programmed to get big. These fish are thoroughbreds, if you have ever caught a 20 inch wild rainbow on light tackle, can you imagine the thrill of 20lbs of dynamite on the end of your line! I assure you won't soon forget.
It was the spring of 2001, we knew who to call first, and seeking information, friend and trophy hunter Rick Arnold has been fishing Pend Oreille and catching the big ones for years. Unfortunately, both lakes were sliding into a down cycle, coupled with our inexperience; it took us several trips to get dialed in. We caught a few big ones to 17.5lbs but didn't get our first 20lber until Nov. 2003.
As I recall, a strong wind was blowing from the south, causing dangerously high waves in the open water. We had to stay in the protected water behind Picard Point. Suddenly a big rainbow hit the outside rod on the left side, penning the rod in the holder, the rod surging as the line went screaming off the reel. Grabbing for the rod, I glanced back to see the fish come flying out of the water. I handed the rod to Pop, for a fight he will always remember, about twenty adrenalin filled minutes later he was in the net. What a relief! At 20lbs 5 oz, a male rainbow in full spawning colors, he was our dream come true.
You work long and hard for these trophy fish and it is always such a surprise when you do catch one. Each fish is significant and very much appreciated, you never know if you'll catch another one. How did we do it? We don't know exactly, mostly luck (a fisherman's best friend). On our last four trips north, we caught six rainbows between 18.3 to 23.7lbs, four over 20lbs. To say the least, Pop was very happy with the upgrade, putting the biggest two, 22.2 and 23.7lbs, on the wall.
"The Browns"

Revert back to 1996, with the Klamath rainbows on the wall. We turned our obsession to a 10lb plus brown. I do have to admit, there is something special (and different) about big browns, mysterious, secretive, even intimidating. At that point, inexperienced, only a few small ones caught incidentally, our work was cut out for us. We had to formulate a game plan (like Tony Larussa getting the Cardinals ready for the World Series) and try to cover all the bases.
In the days before the internet craze, there was less information available and it was harder to find. Even then you need not research much to hear about the Brown Baggers Club and that these guys know how to catch the big ones. I can remember pop telling me, "If we can get to know them, they could point us in the right direction". Yeah and how would we do that? We decided the best way was to go catch a big brown to get their attention… easy said, but not easy to do.
Ok, where to start? Back to our trophy hunting roots, certain areas (lakes) have a better chance of producing big browns, we decided on Wickiup Res. and Paulina Lake in Oregon. One and a half years later with two previous trips to Wickiup and one to Paulina under our belts, from these experiences, along with the stories you hear of knowledgeable trophy fisherman going years between big fish, we figured (as it should be) it would take a lot of hard work and persistence, we were in it for the long haul.
Fortunately, during a phone conversation with (then Paulina resort owner) John Hofferd, we got a tip, nothing major, but it ended up being a key piece of the puzzle, that helped open our minds to a new level of intuitive thinking. I can remember for weeks prior to our next trip, Pop, mom and I would meet at a coffee shop (before work) a couple of times a week. We would get into heavy conversations, studying, and analyzing, fine tuning our M/O. And get all excited, taking notes, drawing diagrams on napkins… formulating our game plan.
With this new game plan, the fall of 1997, we had a trip we will never forget. The weather at Paulina was clear and cold with ice forming on our guides in the mornings. On the second day, we hooked what at first felt like a nice 6-7lber, coming in fairly easily to about forty feet of the boat. Then we saw her, "Oh my god, it is huge!". No question, well over 10lbs. Instantly, we started getting very nervous, every time she would dive and take out line, we would hold our breath. Please don't loose this fish. Finally, she was in reach of the net, with one scoop she was ours. We lifted her into the boat and just stared. .. In awe and amazement. Shocked. After a couple of high fives, we started to get our senses back. My first impression was how fat and stocky she was (I'd never seen an older mature brown). Anxiously, we measured and put her on the scale, 32 inches long and 15lbs 5ozs, Wow! While taking photos, an unbelievable feeling came over us, of luck, gratitude and satisfaction all rolled into one. Then we headed for the resort to verify our catch. We were surprised; she only went 13lbs 14ozs on the old Berkley digital scale. Anyway we were in heaven (our first over 10) our trip was more that made, even if we didn't catch another fish.
Who says lighting doesn't strike twice? Three days later, again we hooked what felt like a 6-7lber, coming in easily. Then we saw her, "Oh my god, another huge brown!". We knew the routine, de ja vu, the same sequence, the nervousness, the holding of our breath before coming to the net. We couldn't believe our eyes, this fish was even bigger than the first one! Longer, fatter, massive… a true monster. Stunned, we didn't know what to say just looked at each other, shaking our heads in disbelief. Nervously, we measured and weighed her, 34 inches long and 20lbs 8ozs, holy sh**! We took our photos and headed for the resort. Again considering the length, and the exceptional girth, surprisingly she only
went 19lbs on that scale. Nothing we could do about that. Anyway, we couldn't believe our good luck, two rookies, catch two exceptional browns on one trip. Check out the photos!
After the two browns, we took a three year detour, chasing the big macs at Flaming Gorge. Meanwhile, we kept hearing good reports from Wickiup Res. by mid-summer 2001. Something told us we should go there. Pop said, "Let's try to catch another 10lb brown and join the Brown Baggers Club. Hence, we planned a trip for September, during the fall draw down, concentrating the browns into the main channel. As luck would have it, surprisingly we caught two big browns, 12.4 and 10.4lbers, our first big hookjaws! How we had our prized Brown Bagger patch.
A year later, on our very next brown trip, this time to Paulina, fall 2002. We lucked out, on the last day, the last hour, with a 12.8lb hookjaw. We were on a roll!
But 2003 didn't start out so good. Due to a weather related mishap, our old 16ft Starcraft boat was totaled. We loved that boat. Consequently, we were forced to buy another boat. With my twin brother George involved, who always has to do it in a big way (bigger is better). We ended up with a beautiful new 20ft Thunderjet, not to mention a new turbo diesel crew cab to tow it with!
Worried our new boat might be too big, for a good brown boat, was quickly put to rest. On its maiden voyage, to Paulina, that May, we caught two big browns. The first a huge old battle scarred hookjaw, 33 inches long and 15lbs 8ozs, a truly awesome fish! Then on the next evening, we caught another 10.4lb hookjaw. While taking out at the ramp we meet Jimmy Lewis, who by coincidence just caught his first 10 plus, almost identical in size and color to ours. Holding them together you couldn't tell the difference. Congratulations Jimmy!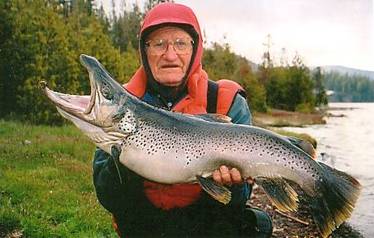 That coming November, we had a major trip planned to Pend Oreille, for the rainbows. Normally, we do not like to plan back to back trips so close together. But all summer we kept talking and thinking about Paulina… something was telling us… from past experience, we learned to go with our gut feelings, and planned a trip for that October.
… That something… the lake was calm and quite, not a ripple. I could see and feel the rod tip pulsating as the lure swam along, suddenly it just stopped and the rod began to load heavily, bending down with the speed of the boat. It must be a snag?... But no, maybe not, did I just feel the tell-tale of a head shake? Yes, there it is again. I yelled excitedly over my shoulder to Pop, "It's a big fish!", as she began to make a run for her life. She arched out wide to the side, suddenly she was rolling and thrashing on the surface. No, don't throw the hooks! She made a few more short powerful runs, but like any over weight girl,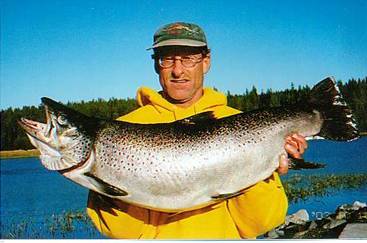 she tired fairly quickly, then we gently guided her along and into the net. We lifted her onto the deck. We knew she was big… but not that big… sh** another monster brown! Trying to settle our nervous, we sat back for a minute and just stared at her, she looked like she was on steroids and must be over 20lbs. She tapped 34 inches long and weighed 22lbs 4ozs a dream come true.
Then in 2004 twice we came close, but struck out swinging, with no browns over 10lbs—our streak had ended. But in 2005 we caught our last, a 10.5lber. Since then we've slowed on chasing the browns, lately our main focus has been on the rainbows up north and moving onto some other interests as well.
"The Mackinaw"

Flash back to 1998, with the Klamath rainbows and the first two big browns from Paulina just added the trophy wall was starting to look more substantial… Now what next?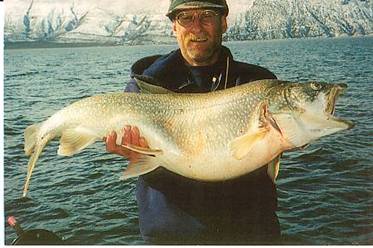 It didn't take Pop and I much thinking to decide that our next goal would be a big mackinaw. Hey, think what you like, but you must admit trophy size macs are just plain big. Inexperienced, never even caught one by accident, to be realistic, we decided an 18-20lber would be our next challenge. We didn't know what to expect, start from square one, and learn the basics and progress forward. Fortunately for us after a little research, it became quite obvious; Flaming Gorge Res. was the place to catch the big ones. Besides, from reading past magazine articles about its famous trophy brown history, we have always dreamed of fishing there anyway.
The Gorge is a deep and massive impoundment, something like 90 miles long and can be very overwhelming. Seeking information, now that we knew Allan Cole from submitting the two browns into the Brown Baggers Club, it was a no brainer. Who better to call than the old legendary members, Allan and Jim Bringhurst, who helped write the history. Armed with our normal research and inside information, we became confident (upgraded our goal to 30lbs +)… over confident.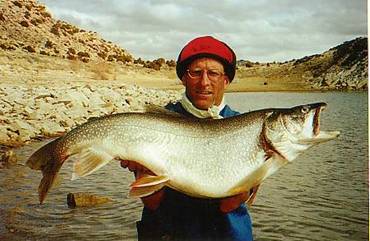 The first trip, early April 1998, started out a disaster, we fished long and hard for, no kidding, seven days and not even a strike, nothing. In early spring The Gorge can be windy, cold, and desolate
which only added to our discouragement. Pep talk time, we had to dig deeper down into our inner most confidence, we did our homework, The Gorge is the right place. We just had to try harder and more important, not give up.
Facing doom, with only two days left, do to our inexperience and some misinformation, we began to realize we were fishing too shallow. The basics, you gotta get it in front of them, we dropped them down to the 110-120ft contour and bingo! Just like that our luck changed. The last two days we caught several macs, including two big ones going 26 and 28lbs. To top it off, just before leaving for home, we meet Brent Mair, local trophy mac guru, who to our surprise gave us some much needed advice and information.
From what we learned fishing and several phone conversations with Brent, on our next three trips, over a two year period, we got dialed into the big ones. We ended up with four macs over 30lbs and had the biggest mounted. As the photos show "these are real slugs!" not to mention, their impressive size added a lot of bulk to the trophy wall.
"The Trophy Trout Wall"

It is not in our character to boast, but there is our story. Those eleven years went quickly, the old cliché, "Time flies when you're having a good time". Rings true for Pop and I. Above Mom an Pop's fireplace, few will see it, the Trophy Trout Wall, some highlights, our wall of fame, but more importantly it is a symbol of the memories, from our time together trophy fishing. We especially cherish the quite water, alone away from the crowds. For instance, just walking into the room can trigger a recollection, suddenly we find ourselves downriggering for macs off Antelope Flats or top lining for browns up the Deschutes channel, of the many good times.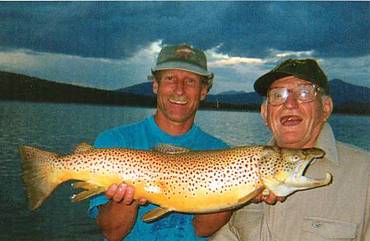 We definitely are not the most knowledgeable, for sure, there are many ways to catch these fish. If we had to give any suggestions, what comes first to mind, "The desire to go the extra mile theory", what makes you a hero instead of a zero. Don't give up and you'll find your own way to catch the big ones. Secondly, like Pop always has to remind me, "Don't forget the basics". Yes, there is a heck of a lot of new and useful information out there, but also remember these fish didn't graduate from Harvard. Try not to make it any harder than it already is.

Looking back, unquestionably, our strength lies in teamwork (our minds working together) and doing our homework (research and preparation). The dreaded Bay Area is 500 to 1000 miles from our favorite lakes, along with family and work responsibilities, we only get to go fishing two, maybe three times a year. To maximize our small window of opportunity, we will spend many hours, studying, analyzing, mulling and remulling, formulating our game plan. We still meet at a coffee shop four to five mornings a week and under the trophy wall, at my parents, on Sundays. We will talk about many different things, but more times than most our conversation will turn to our favorite subject, trophy fishing.

In the beginning we dreamed of 10lb trout, to think we've caught some more than double that size, has gone beyond our wildest dreams. If we would want to do it all over again, of course we would. If we thought we could duplicate our success, I surmise the odds would be surely against us. You can prepare and dream all you want. It will swing the odds more in your favor… but there is no guarantee… you still gotta be lucky (a fisherman's best friend). That's trophy fishing.

"Good luck, and may you go beyond your wildest dreams…"
Gordon and Ed "Pops" Hahn