I recently returned from an epic fishing trip. My feet still have not hit the ground yet. This was truly my "trip of a lifetime," so far. Can you imagine catching rainbow trout in the 28 to 34 in. range that AVERAGED 19 LB?! That isn't a typo, I will state it again. We actually caught (21) rainbow trout that averaged 19 LBS! Of the (21) we landed, (11) of them were over 20 LBS! I will stick my neck out and say there is NO rainbow trout fishery quite like this in the whole world right now!
We had already developed a relationship with the twins, Adam and Sean Konrad (The Fishing geeks, as they are now known), before they had caught the World Record Rainbow Trout back in June of this year (2007). This 43 LB. 6 OZ. behemoth rainbow would shatter the mark of the 42 LB. fish from Bell Island, Alaska taken back in 1970 by David White.
The original plan was for us to fly up to fish and film with them at Lake Diefenbaker in Saskatchewan, Canada this summer. It became even more imperative after they caught the world record. This would be our third in the "monster trout series" of DVD's we are producing. We were really pumped at the possibilities of catching 20 LB. plus rainbows. In fact they had guaranteed us fish of this size. I remember giggling to Mark that we shouldn't put too much stock in that promise. Boy was I wrong!

The Lake Diefenbaker system is a giant lake of 430 square kilometers that is over 225 Kilometers long. It features walleye and rainbows as the main species. A commercial fish farm that has raised triploid rainbows for at least the past 20 years is one of the sources of the monstrous trout that inhabit the lake system. There is also some native fish and natural reproduction to a lesser degree. As the story goes, about 500,000 triploids escaped through a hole in the net pen made by an ice flow about seven years ago. With "perfect storm" conditions of forage and ideal water temps, these trout are common at 20 LBS., with several fish caught each year in the 30 LB. range and of course, we now know that there was at least one "mother of a trout" in there that exceeded 40 LBS.!!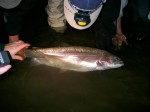 These triploids are unique in that many have characteristics of wild fish. Before you get your nose in the air about these fish not being native, let me assure you that most specimens are big, beautiful fish and resemble the giant gerrards that inhabit Kootenai Lake and Lake Pend Oreille. They are massive and powerful. Check out the photos and teaser clip on our website to see the magnificence of these monster trout. The cutbow hybrids in Henry's Lake, Idaho are also triploids and that fact is not known or ignored by the many anglers that flock to that lake each year. There are some who believe that triploids may be the future of trophy trout fishing.
We had been anticipating this trip for months and when it finally arrived, I was like a kid at Christmas. I would like to thank Lake Diefenbaker Tourism, Saskatchewan Tourism, and the CTC for their generous involvement with this project. They stepped up in a huge way to make this happen for us.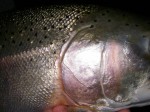 My flight took me from Portland to Vancouver, and then Calgary, before finally arriving in Saskatoon, Saskatchewan. I was kind of wiped out after getting only about 4 hours of sleep the night before the (3) flights. The fact that we would be doing all of our fishing at night was going to make me a zombie the first night, or so I thought. I actually did a little better than I expected. The adrenaline and excitement kept me going.
After a delicious dinner of white fish and rice with vegetables that the twins cooked for us, we made our way from Highland Outfitters, where we stayed, to the lake. It was eerie as the moonlight played on the water and we made our preparations for the night of fishing. I am purposely not going into any great details about exactly how we were fishing at the request of the twins who are now operating a guide business on the lake. They will be glad to show you just how to do it if you are interested in a trip. I will say that we were doing a combination of bait fishing and casting lures for these "toad" trout.
It was my deep desire to let Mark take the first fish. Mark runs the cameras for our shoots and doesn't get to fish as much as he would like. When the first rod went over around 10:30 p.m., he grabbed it and knew instantly that he was fast into the biggest trout he had ever hooked. After several nice runs with a screaming drag accompaniment, he finally had the fish in the shallows after a solid five minute battle. He and I were both astonished at the size of the fish. It was 18 LBS. and looked every bit of it. We slid the big slab back in after some photos and underwater footage. We were stoked! The first fish was a toad!
In the first half of the first night we fished one of their favorite areas and posted fish of 8, 8, 15, 16,17,18,21, and 23 LBS. I got into the act with a 17 LB. trout and Adam's Dad, Otto, took big fish honors with the 23 LB. monster. However, that wasn't going to hold up for the big fish of the night.
After moving to another spot, we really got hot when we nearly got onto a triple! We had changed up on our gear and were using light spinning rods with 8 LB. test. Mark grabbed the first rod and had his hands full with a rainbow that weighed in at over 20 LBS. As we all gathered to take photos and high-five his biggest rainbow ever, both of the other (2) rods went over. It reminded me of guys fleeing a fox hole when an incoming grenade was lobbed into it in the old WWII movies. Everybody was racing in a different direction; Mark for the camera, Sean to his rod and me to mine.
At first, we thought that maybe the same trout had picked up both our baits. Not so, as both lines took off in different directions. The light rod I had was doubled as the big trout just kept taking line. There is no better sound in the world to my ears than a screaming drag! Sean had a better shot at getting his fish in as I just kept a tight line on my trout that was way out there at this point. Sean's fish turned out to be another big trout we estimated at 18 LBS. Mine was a different story. I had to alternate the rod between hands as my arms tired…..this was a BIG trout on 8 LB. line. After what seemed like forever, I finally had my biggest rainbow to date in the shallows and we could make out the deep girth these trout exhibit. We finally slid it into the cradle net that the guys like to use. They work great on these big fish and are much less invasive or stressful for fish.
The fish and cradle weighed really close to 28 LBS. and that would net out to 25.5 LBS. What a beautiful fish! Perfectly proportioned with pinkish and reddish hues over the gill cover and down the lateral line of the fish, made this fish a perfect specimen to mount. I decided to do so. The taxidermists I work with make a mold of the actual fish for special size fish like this. We have hundreds of molds of various species, but few of rainbows this big. The sacrifice of this magnificent fish would then allow us to pop future big rainbows from this mold for those who would like to practice catch and release and still get a mount. Since I release hundreds of trout each year, I had no difficulty in keeping the monstrous rainbow.
We had just caught (3) rainbows weighing almost 64 LBS. total in less than ten minutes! We released (2) and kept my biggest rainbow to date. These kinds of weights don't seem to compute when you think of rainbow trout. The bite finally slowed and we called it a night around 4:00 a.m. That is a total count of (11) rainbows landed with (4) of them over 20 LBS! I had never experienced anything like it in my 50+ years of fishing. I wondered what the rest of the trip would hold.
After sleeping in until around noon on Saturday, I got up to eat something. Mark was still under and I let him sleep a while longer. Remember that we had been up almost 24 hours before we crashed at 5:00 a.m. We just tried to unwind for most of the day and take in what had happened the previous night. The twins made us dinner again that evening before we headed back out to the lake. What a sweet deal. They barbecued Porterhouse steaks and shrimp with red potatoes……a meal fit for a king!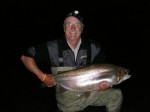 That second evening was a very similar drill. We drove to the lake, set-up rods, and then waited for the bite. We did some casting to see if we could get some of these big rainbows on hardware. Adam was casting the Mepps Syclops spoon that he used to catch the record fish. I was throwing a Rapala X-Rap that looked good to me. Neither of us raised a fish after a decent effort early in the evening.
Around 9:30, the first bait rod went off. It was only a 15.5 LB. rainbow. I guess I am getting jaded already! Under any other circumstances and anywhere else, this would be a killer rainbow. It is below average for this fishery! With several of us catching and releasing rainbows from 13-23 LBS, this was looking like another great night. Suddenly the light spinning rod closest to me went over hard. The drag is whining as line is pouring off the reel. When I get the rod in hand, all I can do is hang on. My arm eventually got so tired, that I would trade off arms occasionally. When I finally had the big rainbow in sight, I could tell with the help of my headlamp and the moonlight, that this fish was bigger than the 26 LB. trout from Friday night. We hooted and hollered in celebration at the size of this spectacular trout. It would weigh in at 28 LBS. after deducting for the cradle net.
Later that night, the wind came up and got steady at 20 M.P.H. so we decided to head in a little early. The total count for the night was an incredible (6) trout weighing 13, 15.5, 18, 20, 23, and 28 LBS. As I fell into bed from exhaustion that morning, I thought how could it possibly get any better than this? I could hardly wait for the next evening and last outing of the trip.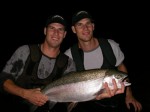 I couldn't sleep as much as I would have liked. I guess I was too pumped up from this kind of fishing action. I was up around 10:30 a.m. and jumped in the shower by the time Mark was awake. We decided to hang around and watch some golf on T.V. for the afternoon in anticipation of the twin's arrival and the rainbow fillets they were going to barbecue for us that night. One of the smaller rainbows (18 LBS.) from the night before was hooked too deeply and was the main course for our final dinner of the trip. Sean and Adam went above and beyond the call of duty in their culinary treats for us. That rainbow was delicious to say the least.
We knew that Sunday night was going to be a short one with all that we had to do the next morning prior to our flights home. Luckily, the fish cooperated early in the evening and we got into a 20 LB. trout around 9:30. Again, I was closest to the light rod set up that was going to produce the biggest trout of our trip. This toad would be around 29 LBS. and the biggest rainbow I have ever caught exceeding the one from the night before by a pound.
Another highlight of this fishing expedition was the 30 in., 11 LB. walleye I hooked and released earlier in the evening that excited the twins as much as me. I believe it was one of the biggest ones they had personally seen from that area. The last nights total tally was (4) rainbows going 18, 20, 25, and 29 LBS. and of course the 11 LB. walleye. Before I forget, I want to share about the big trout Mark had on earlier in the night. I was near him when the rod went off. I ran over to watch and we both couldn't believe the strength of this trout. You could hear it surface out in the dark and it sounded like someone threw a bowling ball in the water. The fish eventually took off on a strong steady run that went on and on. Finally, it got into something and got hung up. When the hooks pulled out we could only guess as to how big that trout really was...30 pounds, 40 pounds? Who knows...but it will make for a great "one that got away story."
I want to thank Cory McLachlan from Highland Outfitters for his hospitality and the wonderful accommodations at his place. He can be reached at his website: www.highlandoutfitters.com. You can contact him toll free at 1-866-453-9270. If you are interested in doing a package guided trip, contact him or the twins, at www.fishinggeeks.net. This will truly be a trip of a lifetime!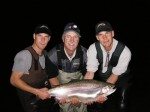 Our special thanks to the twins, Adam and Sean who have this fishing drill down and are so proficient at what they do. They handle these fish with such care! If you think you could get up for catching a 20 LB. rainbow trout in some gorgeous country, make your plans soon. Some of their methods are non traditional for rainbow trout fishing, but if you can get past that then get ready for some drag screaming action! My guess is that they will be booked for next year quickly.
If you are interested in purchasing our DVD from this trip, it will be available later this winter at this website. You can see a teaser clip from it now at the site.