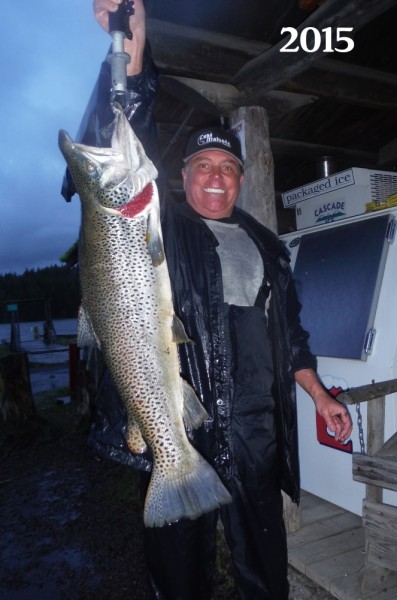 Andy with his best.....12 Lb.+ and his first over 10 LB. Your half in the bag man....congrats!
The addiction is REAL. I grew up in Bend and had fished Paulina many times, but NEVER for Browns. Wasn't really sure what one was! And why would I when there was always a plentiful supply of Rainbows ready to take my Flatfish OR Velveeta on a treble. Rainbows were easy! Moved away to Arizona to go to school and though there ARE some remote trophy trout locations here, pretty much lost the "bug" by catching 12" after 12" stocker rainbows. And then on a fluke about 10 years ago (and the smartest dumb thing I ever did), I read a story in an October Bend Bulletin about some fisherman at Paulina that had caught more than 10 over 10 POUNDS! I was convinced! If HE could catch 10 that big in just one month, I'm sure I could catch ONE. How exciting! It must be like a feeding frenzy! Should have read the fine print.
Convinced my buddy the next Spring to invest in some BIG poles to handle these monsters (I think they were made for surf casting), because we were heading to Paulina for the opening and our first attempt at this mythical, gigantic, and apparently easy-to-catch 10-pound Brown! Loaded up with Rapalas and 9" swim baits, we headed out. Even bought a gaff to help bring the 10+ pig into the boat! We trolled and the action was descent. These browns WERE easy. Caught an 11" in no time! Maybe even a 12" mixed in! Caught probably 30 with the "beast" of the trip stretching out to an impressive 13". Thought that was GOOD fishing and we took a picture of every single one. Had to be just a matter of time before a big one came. Booked a trip for that Fall. Wasn't ready for an entirely different ballgame. Figured they'd be feasting getting ready for winter. Forgot they're brown TROUT, not brown BEARS. Had a slow go of it. For some reason, what worked in Spring wasn't quite cutting it that Fall (have since learned why).
Next Spring. . we got a little better. Read all winter about new lures and even SCENT! What a difference a little knowledge makes. I think we got a 16" that year and no longer took pictures of EVERY fish. We were getting better but still had a LONG way to go, so I concocted a brilliant plan. The NEXT year we'd hire a guide! Learn the lake, learn what to use and how to use it, and then own that thing! Not sure how I found Rick Arnold, but glad I did. We learned of lures I'd never heard of (living in Arizona, it's BASS BASS BASS), techniques I didn't know of, and the locations to try depending on conditions. Flatlining? Lead Core? NOW we were armed with knowledge and switched to the right gear! I think that year we started dabbling in the 3-pound range and MAN, was that cool! Can't believe I was ever excited about a 12-incher.
The next trip, we got still BETTER. I think I popped a 5 that year but that was also our game-changing year. My buddy hit a 9 and we FREAKED! Our new lures, new techniques, new knowledge, and most importantly, time on the water, were paying off! Now the addiction was solid. No more pictures wasted on 2-pounders. Now it's 3 or better! But let's get a 10! (I realized at this time that the gentleman mentioned above did NOT in fact catch 10 in ONE MONTH).
After an unfortunate couple year hiatus, I was back and ready! Still MORE new lures, still BETTER gear, and sold the gaff on eBay. Back to Paulina and continued on decently, regular hitting stuff in the 3-4 range which is certainly better than the 12" that made me happy just 5 years earlier! I knew they were in there and felt confident that I was gaining the ability to earn one. We all know a story of a guy that caught a monster fish on a ball of Powerbait. I wanted to EARN mine. Though I've seen some of the best Brown Baggers alive (Cole and Hofferd) in simple, open boats, I figured my Japanese Lures and Trophy Trout Scent weren't enough. I needed my own boat. These monster browns were my drug and I was addicted. I needed a boat with a cover, a trolling motor, a nice Fish Finder, downriggers. . .and a second job.
The addiction comparing Arizona and Oregon is that when fishing Arizona, you pretty well know that when you get one, it's going to be 10"-12". Every now and then you catch a "Trophy" 15-incher, but it's certainly predictable. In Oregon, you never know what you're going to get. I've caught moss that felt like monster fish, and fish that felt like monster moss. But they're in there. . .IF you know what you're doing. Or lucky. Or both. And it was tough to get good on one, 3-day trip a year!
So I got the boat. . .along with still MORE new lures and still BETTER gear. Knowing now where, how, what time, taking into account things I NEVER would have considered like the moon cycle, THIS was my year. Got a couple poles in the water and at 5pm first afternoon in the new boat, ZING! My friend Amber was snagged! Or so she thought. After a long tussle with monster moss, she proclaimed "That's not a snag!" and in came the 10-pounder. In a tragic turn of events, while pulling it in, it coughed up an 8" kokanee that, in our excitement, we threw back in the water, and weighed our NOW 9lb, 12oz Brown. It's still a 10 in my mind. Getting still closer! But why am I getting all the knowledge and my friends are getting all the big fish! Each got a 9+ and my PB might be a 6? IT'S MY TURN! Every year gets better. From being proud of a bunch of 1-pounders, to then a 3, a 5, a 7, a 9, a 9.8. . but still no 10!!!!
So. . THIS is my year? Headed out last month with yes, still MORE new lures and still BETTER gear. This time brought 6 buddies with me to get a taste of the real stuff. It was slow with a 3 and a 4 our best but all had a blast. They headed home and then it was all me. I had three days alone to tackle the lake. I knew where the Kokes were, I knew where the Chubs were, I was in the right moon phase, and I had the right weather. A lot has changed since dragging a scentless F-9 in the shallows at noon. As fate would have it, the last run of my last night there, heard the lovely sound of line ripping off my reel. Moss? Rock? Have learned to set the hook no matter what and glad I did. One big pull back resulted in two heavy jerks forward. Fish on! And then the mind goes. "It feels big! Oh yeah, it's big! Or is it wrapped in the line and coming in sideways? No, it's big." The rush and anticipation are unreal. WHAT IS IT? And if you just ate a Koke, SWALLOW IT! It was big, but how big? And then it gets close enough to see with its first belly roll and now you know, and now the panic. I have no witnesses so if it gets off now, what's my story? And what if I net it and it's ONLY 9 1/2? Eight years ago, happiest day of my life! Today, I NEED THE 10! Got the net underneath and plopped him in the boat and there was no question. Raced back to the lodge, got the owners, and got their official weight of 12 pounds. Rick will be doing my mount.
A long learning curve, some coaching from my good friend, the right gear, a lot of time on the water, and a splash of luck got me my first. An unbelievable feeling getting that first one out of the way. I may get another this year, it may take 10 years, but I know I've got ONE! The creation of a potential Brown Bagger is complete. And I absolutely LOVE the ongoing pursuit. I'll get there, I know it. Just got back a couple weeks ago so decided to take a little time off to reflect. Heading back in two weeks.
Andy Rose