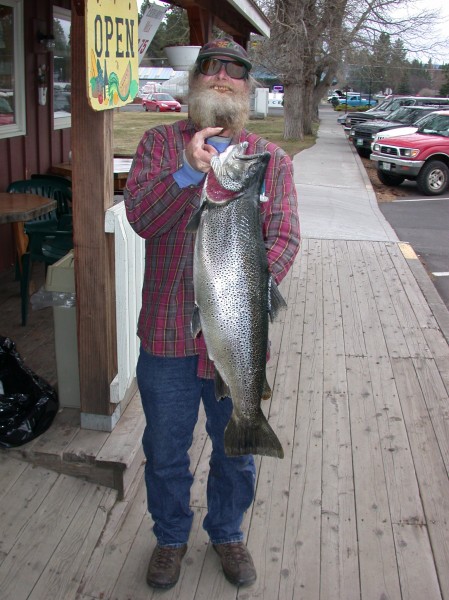 Chuck Jones with his monster 19 lb. 7 oz. brown
It has been at least 15 years ago now since I first met Chuck Jones and it was probably at Wickiup. I will never forget when I asked him for his phone number so we could stay in touch and he replied he didn't own one. I don't mean a cell phone either......he didn't own a phone PERIOD! He hasn't for most of his adult life and he is heading toward 60 now. Because of that, we only hook up on the water when he is in Central Oregon pursuing big browns, bulls and lakers. I don't know exactly when, but I have general idea what lakes he might be at throughout the spring and summer.
He has lived down in Roseburg, Oregon for as long as I have known him and well known on his home court for his salmon and steelhead exploits. He often catches numbers and sizes of salmonids from the Umpqua River that are off the chart for most anglers. I can't say with certainty but I believe he loves the pursuit of the browns above them all. His numbers of brown trout over 10 LB. is now up to 35 going back over 30 years of chasing them. There is only one of the Brownbagger members that has more.....Allan Cole with 39. On the West Coast those kinds of numbers are crazy!
When I got lucky and caught my first brown over 10 LB., a 19 LB. 6 oz. hen back in 1999, I think we had just met. For all the big browns he had caught up until then, his best was a little over 16 LB. I think he was a little envious until he caught a 19 LB. 7 oz. hen a couple of years later. He now enjoys lording it over me and occasionally reminds me his is just a little bigger!! The crazy thing is they look almost identical! The best brown that has hit the bottom of his boat was a massive 20 LB.+ hookjaw male that his step-son, Brandon, caught with him many years ago at Wickiup. That is the biggest male brown I have ever seen this side of lake Michigan! You can see it in the photos above.
We have learned some things from each other along the way and really enjoy fishing together when we get the chance. In fact, we had a monumental trip to Wickiup back in the low water Aug. of 2010. We normally get into my boat since it is a bit bigger but this day, we went out in his and I got to enjoy just fishing while someone else drives the boat.
As luck would have it, it was a "perfect storm"in that conditions lined up for what would turn out to be the most quality browns either of us had ever caught in a day. We landed 16 browns over 5 LB. up to 9 LB. and it went on for the whole day.....a trip I will never forget! If you want the details check at the report of that day here: http://www.trophytroutguide.com/news/08_25_10.htm. He had never seen how well lead worked until that day when I stuck the "lions share" of those browns. A week later, when he was getting ready to leave for home, he called me from a pay phone and asked about my buddy, Steve Kelly, who was selling one of his lead rigs....Chuck wanted to buy it!
I will sum up by saying he is a good friend and without a doubt the most prolific big brown angler in the State of Oregon. If you read this and know Chuck, let him know......he obviously doesn't own a computer either!
Screamin' Drags,
Rick