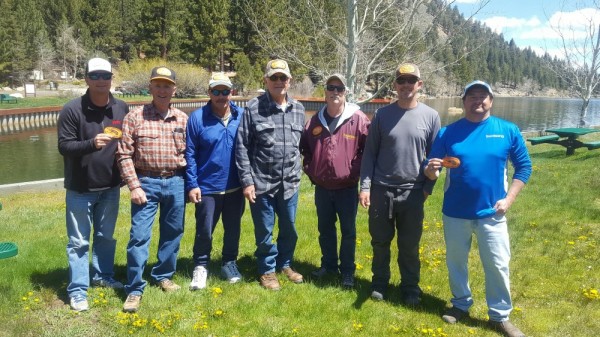 The group of Broanbaggers that made it to Twins for the Brownbagger Fest 2016. L to R Mike Nielsen, John Werwie, Dan Stewart, Allan Cole, Rick Arnold, Eric Cole, and Brad Stout.
The last time a group of Brownbaggers got together was back in 1991 at Stampede Lake for a memorial tournament to honor Bob Bringhurst, who passed away in the late 80ís. Fast forward to 25 years later and several of us including: Allan Cole, Jim Bringhurst, John Werwie, Rick Arnold, Dan Stewart, Mike Nielsen, Eric Cole and Brad Stout meet at the Twin Lakes.
Last fall, while talking with Dan Stewart, he suggested that John and I join him for the 2016 opener. Since John and I both fished the Twins back in the 80-90ís but didnít know each other, we had talked many times about hitting them together. During this past winter I had the idea of rounding up a group of us and ran it by Allan....he liked it!
The Coles, Nielsenís and Stewart would be there for the opening. John and I agreed on meeting up on Sun. afternoon along with Brad. Jim wasnít going to be able to make it until Tues. after a long weekend trip to a car show. We decided to get as many of us together for the group photo as possible so seven of us met up at the Mono Village Cafť at Upper Twin for the mug shot and a meal. We shared lots of great memories and tall tales of big browns caught and lost!
The fishing was good right at the opening and the Coleís did well with Allan getting what would turn out to be a derby winner hen brown at 9 LB. 9.75 oz. the first morning (I will go into that further a little later). Eric got a nice 6 LB. brown and the Nielsenís caught several smaller browns. It was overcast and snowing and the trout were cooperating.....at least for early on Saturday. Sunday was a different story. We didnít fish until that evening and did hit some dinks down at the dam working ďskinny water.Ē Brad got some nicer browns up to around 7.5 LBS. right before dark.
Monday the weather improved and the action went south.....just like the old Twins I remember....very little catching for lots of fishing!! Except for an occasional dink in shallow, the deeper water drill produced zip for John and I. Dan didnít have a bite all week and Allan and Jim caught some numbers of browns while working Upper Twin through the middle of the week....Lower Twin had turned off! Jim did say he had a good brown on that jumped and through the lure.

The old courthouse in Bridgeport.
The highlight of that week turned out to be the contest that Allan won. Eric had entered Allan and himself in the WON High Sierra Opening contest that ran that weekend only. The circumstances and what happened next are why I refer to Allan as the luckiest guy I know! As the story goes, Allan and another guy from Convict Lake are tied for first place with 9 Lb. 9 oz. trout. Allan has the brown and the other guy caught a brooder rainbow. Allan weighed his at the designated scale at Kensí in Bridgeport and the other guy weighs his at Rickís in Mammoth. As several of us were heading back up to the lake on Sun. evening from Kenís, Allan gets a call advising him that they have some good and bad news for him.....seems that they are both tied but the tie breaker is whoever registered first and the other guy was the winner!
Eric, being quick on his feet, asked if it would be possible to weigh both trout on the same scale to be 100% sure of the heaviest trout. At first the sponsor balks but eventually allows them to drove down to Mammoth that evening to weigh Allanís brown. As luck would have it, Allanís brown (the day after being caught!!) ekes the other out by 3/4 of an oz.....now you know why I call him lucky. The top prize was a $9,000 Gregor boat, E-Z Loader trailer and a 9.9 Merc. What are the odds!!
The weather turned cold again and a front moved in on Thurs. eve and we got about 3 inches of snow. With everyone else but Dan gone by now, John and I decided to make the move to our next lake. We took off Fri. morning and were at the lake later that afternoon with heavy rain setting in. The next morning was super cloudy to the point of not even being able to see......just like a bad fog. The fishing was pretty good though and John caught 6 and 8 LB. browns and things were starting to look up. That evening I caught browns of 5, 7.5 and 9 LB. and we were pumped!
Over the next several days we caught and released several nice browns with 10 of them over 5 LB. up to 9 LBS. It was a much better week than the preceding one by far.
All and All, it was a great trip....getting together with those guys was fun and something I will never forget!
Screaminí Drags,
Rick