Back in the early 80's after a positive change in the direction of my life, I got interested in fishing again. Specifically, I got fired up about catching brown trout.....BIG brown trout! I had heard about a club called the Brownbaggers and thought it would be cool to see if I could make it into the club. The requirements were catching (2) brown trout over 10 LB. and have them approved by founder Allan Cole. That was way back in 1983.
In those days, I was reading about these giant browns coming out of Flaming Gorge Reservoir along the Wyoming/Utah border and the parade of characters who were chasing them. Back then, Ray Johnson was being touted as the man who had caught more big browns than anyone. His reputation was being pushed by the outdoor writers of the day, and he was monthly fodder in Field and Stream and Outdoor Life magazines in the late 70's. He had caught a lot of big browns and lived an unusual life often camping along the shoreline of the giant reservoir even during the sub-freezing winter months.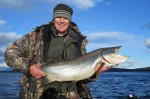 He was probably the first of the big brown guru's and very controversial, to say the least.
Later on, I had heard about the Brownbaggers, this small group of big brown junkies that had originated in the Bishop area of California. They "cut their teeth" on the surrounding High Sierra waters of Lower and Upper Twin Lakes, Crowley, Pleasant Valley, Bridgeport and Convict Lakes. These were the waters of that era that produced big browns measured in pounds, not inches. One of these same lakes, ( Upper Twin Lake) still holds the record for brown trout in California. I was there that day when Danny Stearman caught the 26 LB.+ hen back in 1987.
My journey started way back then and I would fish the Twins and Bridgeport each spring and fall for a couple of weeks with my Dad in the pursuit of trophy browns. I remember when I finally got my first brown over 5 LB. at Bridgeport Reservoir back in the mid-80's. We would cast CD 11 Raps off the dam in the mornings and evenings....it was a blast! I actually mounted my first brown over 6 LB. back in 1986 and she still hangs in my office. My best brown from the Twins came back in 1990 and was a beautiful fat hookjaw that brushed right up around 9 LB. My quest for the magical 10 LB. brown would continue when my wife and I moved to Bend, Oregon back in 1995.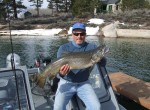 My first big brown came on a warm summer evening in mid-Aug., 1999 at Wickiup Reservoir. I was supposed to be pre-fishing for an outing with my neighbor and his Dr. friend from Uganda and I was actually going to East Lake but changed my mind at the last minute on the way up. It was a good call as the 19 LB. 6 oz. brown hen probably wouldn't have happened if I went to East. The following spring, I popped a nice 10.75 LB. hookjaw from Crescent and finally had the credentials to get into the club. It was a little later that spring that I ran into Allan Cole at Paulina Lake and approached him about joining the club. He said it would cost $30 for the patches (probably just gas money for him...he he!) I had achieved my goal......I made it into the Brownbaggers!
The next year I got a nice 10.75 LB. hen from a lake in California with Ron Lane and Allan Cole present.......there is no better "burn" than getting one right under their noses. We all truly enjoy the competition and have fun with it. I got my 4th later that same summer when I got into a nice hen while out with my Grandson on Wickiup in July that was right at 12 LB....a long hen! While I have been in a drought for several years now, I did manage to put my Grandson onto a killer 32 in., 12 LB. 6 oz. hookjaw a few summers back and will be working on getting him into another over 10 LB. so we can become the first grandfather/grandson team in the Brownbaggers.
The club has always been a loose knit group of anglers who enjoy catching big browns. At the top of the heap sat Rich Rienwald, who, according to many of the original members, was the best big trout angler they had ever seen! He amassed 34 brown trout over 10 LB. during his days of chasing salmo trutta. Who knows how many he would have caught if he hadn't quit fishing for them back in the 80's. I had the opportunity of talking with Rich on the phone way back in the 90's when I was fishing for the big gerrards at Pend Oreille. He was helpful in dialing me in to modifying Apexes ( lure of choice then) and some of the better areas to fish the lake.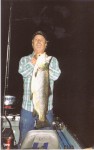 His credentials were amazing. He, at one time, held the California Record for brown trout with a "beast of a hen" that was over 25 LB. He later became the premier guide at Flaming Gorge for both big browns and macks during the late 70's and early 80's.. He made the move over to Sandpoint, Idaho in the mid-80's and went on to catch monster gerrard rainbows with regularity at Lake Pend Oreille. One of his clients holds a line class record to this day with a 31 LB.+ hookjaw male gerrard! Sadly, Rich lost his battle with colon cancer back in the fall of 2008.
At present, Allan Cole is right behind Rich with 33 browns over 10 LB. I wouldn't be surprised if he ties or surpasses Rich this year. Next is a good friend, and one of the best big brown anglers I know, Jim Bringhurst. Jim has 32 to his credit including a 26 LB. monster from the Gorge. He hasn't fished all that hard these past few years or he would probably be at the top of the list. His dearest hobby these days is restoring old cars and he is as good at that as he is at catching big browns. His brother and fellow Brownbagger, Bob Bringhurst, caught the World Record Brown trout from Flaming Gorge back in 1977 that tipped the scales at 33 LB. 10 oz. Unfortunately, he was killed tragically in a hold up many years ago and died way to young.
The list of names of guys in the club is a "whose who" when it comes to talented big brown trout anglers. Dennis Lee, Ron Lane, Rick Erickson, Bob Beach, John Hofferd, and Ron Carey have all caught at least 10 browns over that magic number. Several of these guys have caught some serious record fish. Guy Carl held the Oregon State record with a 27 LB. monster caught back in 1993. Howard "Rip"Collins held the World Record with a brown from the Little Red River, Arkansas up until last year with a 40 LB. 4 oz. behemoth. Ron Carey caught and released the only brown trout over 20 LB. that I know of. Some truly incredible fishing feats!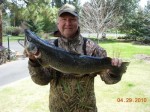 Though there has been some controversy surrounding the club for many years, it is, like most groups of people, made up of a spectrum of anglers with every level of integrity. There have been stories about night fishing, fishing with chubs illegally and other accusations, some true and some false. I will say that I have been fortunate to befriend many club members and can count several of them as close friends.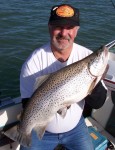 Every guy I know and fish with, have represented the sport with respect, honesty and integrity. I am proud to be a member of the club!
Jumping up to this spring, it has been a phenomenal year so far for club members. A month or so ago, John "Krmp" Krmpotich caught his 5th over 10 LB. to start the season. Shortly thereafter, Allan Cole caught (2) over 10 LB. in a matter of hours. The smaller hen was over 11 LB. and the larger weighed 15 LB.+. John Hofferd followed that "hat trick" with (2) nice 10 LB.+ hookjaws in a week at Paulina Lake. When I got home from fishing with longtime buddy and fellow Brownbagger, John "Dink" Werwie, I got an email from recent inductee, Dan Stewart that he had just caught a beautiful 33.5 in. brown hen from Lower Twin that was just short of 15 LB.!
That is (4) Brownbaggers with (6) browns over 10 LB. in less than two months! To top things off, though he hasn't caught the (2) over 10 yet, Eric Cole just crushed everyone with a true "fish of a lifetime," when he landed a giant 21 LB. hen brown from Wickiup just this past week. Many members are off to a great start.......I am hoping to break out myself this year. If not, I sure have fun trying.
Tight Lines,
Rick