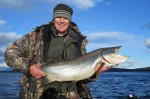 Until a couple of years ago, I had not been able to fish for brown trout as much as I wanted too. I had pursued a career in professional baseball for the last twelve years with the Houston Astros and Texas Rangers in their minor league systems up to AAA, along with a few years in the independent minor leagues. The closest I came to playing in the "Bigs" was playing a half dozen times during spring training, but never during the regular season. Since I was involved with baseball from spring through summer, I would have to endure my dad, Allan Cole, calling me periodically with a "burn" call about another big brown he just caught.
After my ball days were over, I lived in Utah for a few years and finally got a chance to pursue the browns. I fished with several buddies and got into some nice browns but nothing over 8 LB. I was developing a desire to stick a 10 LB. brown and knew it usually took a lot of time on the water and a certain amount of luck. Since my earlier days of fishing for stripers, I have caught some big fish and really wanted to land a really big brown. I had heard the stories of so many of my Dad's buddies and some of the other Brownbaggers who had caught some real toad browns. It only fueled the fire!
After moving to Oregon a year and a half ago, I started a new phase in my life. I obtained a General Contractor's license and started my own business. With the tough economy, I had plenty of time on my hands to fish.....and fish I did. I hit all the lakes in Central Oregon that were famous for big brown trout and did fairly well. One of my best browns was a short but fat gorgeous hookjaw brown. He was only a little over 23 in. but pulled my scale down to 8.5 LB. One of the prettiest browns I have ever seen! I was working hard for that first 10 LB. brown and just waiting for the "day." Little did I know it was just around the corner!
My Dad and had just made the trip up and wanted to get out with me on Wickiup. A friend and I had some great luck over the opening weekend and I was taking Dad out to hit some runs that had been productive for Darrell and I just a few weeks back. The wind was howling and the temps were in the 30's. It was miserable! After 4 hours, we hadn't had a bite.....it was looking like we might
get skunked. Fortunately, we still had prime time ahead of us.
Around 7 p.m., the moment I had been waiting for much of my life finally became a reality! My rod was slammed hard and there was a huge boil back behind the boat. I told my Dad " I got the BIG ONE!" I have been fooled many times before thinking I had that 10 LB. brown only to find out that it wasn't when I got it up near the boat. Once the big fish was up and started to run, I had a good feeling that it was my first 10! All of a sudden, the fish took off across the top of the water with its back out.....it was big......it ran for about 40 yards! I had never seen a brown run on top for so long. My Dad yelled "it is over 10 for sure!"
This fish felt like a big striper on my 8' G Loomis rod yanking and taking line. After a couple of more runs, the big trout was tiring and coming in. I told my Dad " here it comes, don't miss!" The fish came within 8-10 feet of the boat and we got our first close look at it. My Dad said "its a BIG ONE!" I have heard him say that before. He gets so excited and animated so I wasn't sure but we knew it was over 10 for sure. I was shaking so much....you fear it is going to get off. I finally got it up within netting distance and my dad scooped her up in the net and said " I GOT HIM!" We pulled it over the side and my Dad screamed "Its over 20!" I couldn't believe it was in my boat! This fish was huge! He then screamed " it might be 25!" I thought it might even be that big.....it was a monster! We gave a couple of high fives and yelled as if we had won the lottery....it was actually better than winning the lottery!
The big hen and actually inhaled the lure and the back hook was in her throat. I had last seen this when striper fishing and seeing a big one that had swallowed a 9" A/C plug. Rick had told me that his 19.5 LB. Wickiup hen had done the same thing. His Excalibur Minnow was way down her throat. He actually couldn't find one of the trebles and then spotted it, detached from the split ring and buried inside her mouth in the bottom of her jaw.
The weight came out to right at 21 LB. and taped out at 33.5 in. What a beast! After we celebrated a bit, my Dad wanted to keep fishing but I told him "I'm done!" I didn't even want to fish anymore! We did end up trolling for a while longer before finally heading in. I was so excited that I finally got my first brown over 10 LB. and the best part was my Dad was able to be there to net it and share the memory I will never forget.
The brown with be mounted by Rick's Trophy Mounts. They do the best work I have ever seen. It will be going up on the wall along with the photo of my Dad and I right below it! What a day.....hopefully, I will get my second over 10 soon and become a Brownbagger.....something I have been wanting to be a apart of since I was a little kid.
Eric Cole