THE PURSUIT OF TROPHY TROUT
(Or how to catch trout as big as your leg)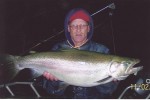 The rod bounces hard from the strike and instantly your drag is screaming. Yards of line are melting off as you wait for the initial run to stop. You crank down a bit and lean into it. The full arch in the rod confirms that this is a big fish. A couple of pulsing, exaggerated headshakes and you are off to the races again on the next run. Is it a Marlin? Or, could it be a Striper? No, this is a giant Gerrard Rainbow Trout pushing 20 lbs. These magnificent fish are only found in Kootenai Lake, B.C. and Pend Oreille Lake, Idaho and are the biggest land-locked rainbows in the world.
I have fished for 48 of my 53 years on this planet. As it goes for most anglers, I would simply settle for catching a fish in the beginning. Then it was how many can I catch? Soon I was hunting certain species and finally, for me, it came down to catching big fish. That is the evolution of fishing in my life. To be even more specific, I enjoy spending a lot of my time and way too much of my money chasing after trophy trout. Every one who knows me knows this to be true. What do I mean by trophy trout? By most people's standards, a 5 lb. trout would certainly qualify. To the circle of fanatics I am referring to (myself included) the gold standard would be more like the following: Brook trout over 5 lbs., Brown, Rainbow, Bull and Lahontan Cutthroat exceeding 10 lbs., and Mackinaws over 30 lbs., would all be considered trophies. I will mention that Kokanee Salmon over 4 lbs., here in Oregon, would be considered trophies as well. There are other species of trout here in the Western United States but I am going to confine my discussion to the above species.
Let me start by saying I believe that it takes three basic things to become an accomplished trophy trout angler. These are not necessarily in order but essential to being successful. You must be determined, committed, and have a willingness to learn. I know guys who think nothing of driving all night to a lake hundreds of miles away. Most of us are willing to sleep in our rigs if necessary and give up many creature comforts to stick a real wall hanger. You should be prepared to spend a large part of your free time to catch fish of these proportions. Many trophy brown trout aficionados spend years between big fish. This pursuit is not for the faint hearted.

I suggest as part of your game plan, that you learn as much as you can about the species you are trying to catch. Understanding feeding habits and types of forage are essential in helping you to choose a lure that will put one of these monsters in the boat. Almost all trout of this size are piscivorous (eat other fish) and you will want to use lures that match their natural forage. Knowing the preferred structure and water temperatures will increase your odds tremendously. For example, in the early spring at ice out, large brown trout are often caught in the upper 20 feet of the water column due to higher oxygenation and warmer water temperatures. Likewise, in Lake Pend Oreille in Northern Idaho, giant Gerrard rainbows are caught near the surface in the fall right after the lake turns over and the temperatures (around 50 degrees) are desirable for them and the kokanee they eat. Conversely, when we are fishing for large mackinaw at Odell Lake in the summer, we target fish nearer the thermocline and along the bottom with downriggers. Earlier in the year, we can catch the macks as shallow as 20 feet. A little later in the spring, when the water starts to warm up, we would pursue those same fish with several lines stacked on downriggers working a grid of water from 60 to 180 feet deep. Again, the water temperatures and baitfish dictate where we look. Large brown trout can be territorial and will stake out an area that holds good structure (downed logs, boulders, rocks or steep drop-offs) that give them a sense of security and an ambush point as well. To the contrary, I have witnessed browns working a school of kokanee pushed to the surface in water 190 feet deep. The native rainbows of Upper Klamath Lake tend to follow a migration pattern around the lake. In the spring, they frequent the southern shores but as the season progresses, they work their way around to the mouth of the Williamson and Wood Rivers for the cooler, oxygen rich water and their favorite forage (Tui Chub). Learn the patterns of the fish on the water you are fishing and make the necessary adjustments as conditions change throughout the season.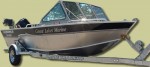 I hope you understand that a boat is required to do the type of fishing described above. I am talking about trolling for these trophy fish because, with some exceptions, it is probably the most effective way to catch them. I will not go into what boat I think is best, but I was fortunate enough to purchase an eighteen-foot Alumaweld Intruder last year. Setting it up with good quality equipment like a Lowrance X-15 graph, Scotty electric downriggers, and a Pro-Troll black box gives me a leg up to get at those fish. A good graph is essential to at least know the depth of water and then of course to determine the location of fish and baitfish. Everyone who has been in my boat and seen the X-15 in operation has drooled over it, without exception. With the high pixel count (480x350) in this model, the resolution is unreal. I worked for Scotty downriggers last year and was a pro-staffer before that, so I am quite familiar with their products. I am a little prejudiced, but consider their downriggers to be one of the best. For those of you who know nothing or very little about "black boxes" (no, I am not talking about the one on airplanes), they are one of the latest "techno-tools" in fishing. Commercial Salmon fishermen have used them successfully for over 30 years and they are now available to recreational anglers. Dick Pool, owner of Pro-Troll products, has a good unit that is in the $100 retail range. To learn more about it go to www.protroll.com. The basic theory is this; every boat is a battery and puts an electrical charge into the water. With downriggers, that voltage is transmitted via the stainless steel cables. That can be good or bad depending on the amount of the voltage. Various studies have shown that each species of fish prefers a certain percentage of a volt and are attracted to it. The box gives you the ability to control that voltage or "sweeten" the cable, as I like to call it.

One of the greatest developments in fishing equipment, in my opinion, is the new braided lines. Their strength and feel is unmatched when compared to monofilament lines. When trolling, it is very important to know what is happening with your lure 250 feet behind the boat. You can see the action your lure telegraphs to the rod with a good braid. It really comes in handy to determine if your lure has picked up a small weed, something that is difficult with standard monofilament. In a technique that some of us refer to as rip-trolling or jigging, the rod is held and swept forward and dropped back to simulate a wounded bait fish (deadly on brown trout). With Braided line you can feel what the lure is doing even 300 feet back. I can actually feel the vibration of the lure through the rod. Again, this is rarely possible with standard mono and its 30% stretch factor. Without that stretch, you have greater hook setting ability as well. I have found that Power-Pro line from Innovative Textiles to be one of the best. The 30 lb. test has the diameter of 8 lb. mono, which is another huge advantage because of the amount of line you can load on your reel. What I like to do is attach, via a uni-to-uni knot, 50 to 60 foot leaders (some prefer longer or shorter depending on the species they are after and whether they are flatlining versus downrigging) of a good monofilament or fluorocarbon and finish with a cross lock snap. The snap allows for quick and easy lure change outs and a lot of mobility in the lures action (always make sure the snap is closed on both sides). This combination gives me the strength and added feel of the braid coupled with the stealthy invisibility and measured stretch of the mono. In my opinion, this is a marriage made in heaven. Load that line on a Shimano Calcutta 400 reel attached to a Lamiglass or G.Loomis rod and you are ready to roll. As you can see, I believe in top-end quality equipment. It makes the fish-catching experience much more enjoyable with less mechanical problems.
Lures are probably the most important part of the puzzle. Appearance, color, and action are all part of the attraction both for the fish and for us. I believe that these big trout are reacting out of hunger, irritation or agitation. I liken the process of choosing a lure to that of "matching the hatch" for fly fishermen. Again, I will state the importance of knowing about the forage of the fish you are after in that particular lake. Whether it is kokanee, rainbows, tui chub, pond smelt, shiners, whitefish, shad or whatever they feed on, try to represent them. Some anglers go as far as to paint their own lures and go way beyond the stock finishes. My favorite lure was the Excalibur Minnow made by Pradco. Unfortunately, the lure is no longer in production. I have caught more large browns (my best went 19 lbs. 6 oz.) on it than any lure I have ever used. One of my best days of trophy trout fishing occurred in the early spring a few years ago on a Central Oregon lake. I ended up catching brown trout of 7, 8, 8.5 and 9 lbs. and lake trout weighing 14 and 22 lbs. The only fish I kept was the bigger laker, which now hangs on my wall. They were all caught rip trolling an Excalibur Minnow in a suspending, shad pattern model in twelve to twenty feet of water. I believe this lure represented the kokanee in the lake and I guess the trout did too.
At Pend Oreille Lake in Northern Idaho, the Apex, produced by Hotspot, is one of the standards and rank a close second only to specialty trolling flies produced in that area. A 4.5 Apex produced a line-class world record rainbow back in the early 90's. The fish was over 31 lbs. and caught on a guided trip under Rich Reinwald when he was still running Trophy Trout Charters. During my annual fall trips since 1990, I have caught 10 Gerrard rainbows from the "Pond" (slang the locals use for Lake Pend Oreille) that went from 11 to 21 lbs. and friends with me accounted for another five between 10 and 19.5 lbs. All of them fell to Apexes. Several of my friends and I have been using the Apexes for lake trout with great success the last few years. Odell and Crescent lakes in Oregon have turned out many big lakers for us up to 29 lbs. in the last two years alone, while using them.
Here in Central Oregon, where we can harvest one bull trout per day (over 24 in.) and only from Lake Billy Chinook, the Excalibur Fat-Free Shad made by Pradco has turned out to be a sleeper on big bulls. I was lucky enough to catch and release numerous bull trout from 5 to 12 lbs. this last spring on these plugs. I could go on for pages about all the different effective lures that are out there, but the point I really want to make is the value of learning about some of the lures that work for the lake your fishing.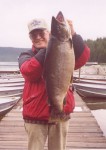 Lastly, I would like to talk about a few of these die-hard anglers and some of their accomplishments. I met Allan Cole a few years ago when I joined a club that he started back in the early 70's. The "Brownbaggers" are a loose knit group of anglers who have managed to catch at least (2) brown trout exceeding 10 lbs. Several of the brownbaggers have amassed incredible numbers over the years. Rich Reinwald was a previous California State record holder for browns and a very successful guide at Flaming Gorge Reservoir and Lake Pend Oreille. Over the years he has caught (34) browns over 10 lbs. and countless giant rainbows and mackinaw. Many of the members I have talked with claim he is one of the best anglers they have ever met.
Allan Cole, founder of the Brownbaggers and lure inventor, caught his 26th brown over 10 lbs. while on a trip to a Central Oregon lake this last Sept. All total, the group caught (4) browns between 10 lbs. 4 oz. and 15 lbs. 9 oz., which are incredible numbers to say the least. Allan invented the A/C lure, originally marketed by the Fred Arbogast Co. and currently produced by Luhr Jensen. Just recently, one of the handcrafted versions of his plug accounted for a 28 lb. 5 oz. brown that now stands as the new Oregon State record. Ron Lane caught the fish at Paulina Lake on a 7 in. minnow model. This was Ron's "lucky" 13th brown over 10 and one, I am sure, he will never forget.
My good friend Ron Carey caught his 10th brown this last year from a lake in Wyoming. The 13 lb. 14 oz. male broke a big fish drought of several years and moved him up into the elite group with 10 browns over 10 lbs. Ron works for Wyoming Fish and Game and is one of the few people I know who has released a brown of 20 lbs., a fish he caught from a Colorado lake a couple of years ago. One of his biggest browns was within ounces of the Wyoming State record.
Jim Bringhurst, during a trip to Paulina Lake earlier this last spring, caught (2) browns in excess of 10 lbs. (that gives him 29 total) while relentlessly working the shoreline with the jigging technique I described earlier in this article. Jim is a pro-staffer for Berkley and is tenacious at working for the big browns. His brother Bob was the previous World Record holder with a giant brown that went 33 lbs. 10 oz. from Flaming Gorge, Utah.
My friend Chuck Jones, from Roseburg, Oregon, looks more like a throw back to the "hippie days of the 60's" with his waist length, braided ponytail and full, gray beard. Do not let his looks deceive you, he an accomplished trophy trout angler. Chuck caught his 20th brown in excess of 10 lbs. this summer and to my knowledge, has probably caught more than anyone has in the last few years. He has also caught many nice mackinaw over 20 Lbs. and is legendary for his salmon and steelhead success here in Southern Oregon.
Kim Daggett has pioneered the art of downrigger fishing out west for trophy browns. His Friend John Hofferd, previous resort owner of East and Paulina Lakes, landed a 24 lb. brown at Paulina a few years ago in Kim's boat. In the summer of 2000 during Aug. and Sept., Kim went on a spree of boating several big browns over 10 lbs. for his guests and himself. His best fish pushed 20 lbs. Kim was also a guide at Odell Lake for mackinaw a few years ago.
I will finish with two of my close friends here in Bend, fellow Scotty pro-staffers, Terry Bennett and Steve Kroll. They are both very proficient mackinaw anglers that I have had the privilege of fishing with many times over the last six years. Steve has guided on Crescent and Odell for several years with fish up in to 32.5 lbs. to his credit. Terry may be one of the most knowledgeable mackinaw anglers on Odell Lake and, I would bet, has caught more lakers over 15 lbs. the last few years than anyone.
Has this been enough to get your juices flowing? Are you an angler who would love to catch a trout as big as your leg? Do you have what it takes? Remember, if you are willing to make a commitment, determined to hang in there, and willing to learn, your odds increase significantly and it is probably only a matter of time until you feel the adrenaline rush these big fish can generate. Good luck and go get em.