Fall Browns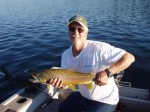 The fall is definitely my favorite time of the year. Not necessarily the best fishing, in my opinion, but the best conditions for sure. After Labor Day weekend, the crowds slim down to only the die-hard anglers here in Central Oregon. By now, most of the outdoor crowd has changed gears and are either bow hunting or getting ready for rifle season. The kids are back in school and fishing is something to consider next spring.

The days are starting to shorten and cool crisp mornings with ideal 70-80 degree days are often the rule from Sept. through Oct. Of course the color changes from greens to spectacular yellows, oranges and reds comes upon us to remind us another summer has past. This is our last hurrah for my favorite fish of all, the brown trout. Most of our lakes will close the 31 of Oct., with only a handful that remain open year round. Even most of these remain in accessible depending on the strength of winter and how much snow we get.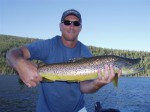 As the brown trout come up from the thermocline to work the shallows during the staging to spawning period (Sept.-Dec. up here), they are somewhat more accessible again to the flatliners that target them. In some lakes you can see several big bucks (6-9 LB.) cruising around a big female (up into the teens) as they are drawn into the mating ritual every fall. This usually takes place in gravel areas or sandy shallows and often where streams or rivers are entering the lake. I have been lucky to witness this sight many times over the years and still get a rush at looking at trout of such enormous size.

Many of our lakes over here in Central Oregon, will have this scene take place over the next few months. East, Paulina, Wickiup, Crescent will be the lakes to focus on if your after one of the monster browns. Personally, I have only come close with a really big brown during the fall season, once. It was early Oct. a few years back at Paulina. I had got a call from Allan Cole letting me know that Ron Lane had just broken the state record at Paulina with a 28 Lb. plus monster brown hen. The following Monday I was working on a Subway sandwich at 1:00 p.m. in full bright sun with glassy conditions, when the drag goes off and the rod is over, hard! The J-13 Rapala had stuck something big.


By the time I had dropped my sandwich and got back on the rod, a lot of line was gone. With the rod in hand, I leaned into it. I knew this was a good brown. After a 15-20 minute battle with several long runs, I had the big buck in sight about 30 feet out from the boat right on top. He was tired. With my net at my side, I was prematurely thinking about whether I would release him or not after photos. You guessed it, "counting my chickens before they hatched." He looked to me to be an easy 12 Lb. and maybe pushing 14. I could see that he was way over 30 in. He was "headed wrapped" with line at least of couple of times and the lure's back hook was in his top jaw with the top hook up near his eye. This was my only fear. Browns frequently roll up on your line when fighting them. More than any other trout that I can think of. That is why so many are often lost with line too light.

The end of this story isn't a happy one. In a final gasp for freedom, the big buck thrashed and I felt the line pop (brand new 14 LB. Trilene). My loud audible scream of " NOOOOOO!!!" could probably be heard around the lake. For a second, I started my kicker up again with the desperate thought of coming up on the fish in an attempt to net him before he knew what had happened. It was a slow motion scene that I will never forget. He just laid on his side for what seemed like an eternity before he righted himself. I could see the lure stuck on the side of his head as he ever so slowly started his descent back down to the depths from where he came. This would have been my biggest male brown by several pounds. I felt bad that he was wearing my lure and hoped he would be able to dislodge it before too long.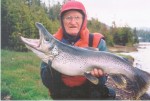 Several of my friends have had great success in the fall. Fellow Brownbaggers Gordon and "Pops" Hahn have pretty much owned Paulina in the fall with there first two big browns of 14 and 19 LB. coming out the in the same week of Oct. years back. Gordon caught his biggest brown to date, a 22 LB. monster also in Oct. a couple of years after that. My good buddy Jim Bringhurst has caught several big browns over 10 Lb. over the years with the last one, a 12 LB. Paulina buck also coming out in Oct. Several brownbaggers fishing Wickiup picked up 3 browns over 10 LB. up to 15 on a Sept. trip a few years ago. Another good friend, John "Dink" Werwie has had a few browns over 10 Lb. come through his boat over the years during the fall season.

You would think this scenario would be a sure thing as the bigger browns are drawn in to the shallows for the fall spawning. The catch is, that as they do show up, the hormonal changes they go through prior to spawning, changes their eating habits as well. With sex on their brains, they will often only strike a lure out of aggression. All or most all of their attention is on what nature demands of them: to reproduce. The good news though, is that some of them can still be caught.


If your game for this drill, I would arm myself with lures matching the size and forage that the particular lake has. I generally run 4-7" lures that resemble kokanee or tui chubs, that inhabit a lot of our Central Oregon lakes. I like to rip troll lures that run 8-15 feet deep and work the shallows with the line at least 200-300 feet back. If you have a downrigger, working the 20-40 foot depths can be productive.

Remember that your goal is to get that trophy brown for the wall. You never know, you may just run into that "fish of a lifetime." Even if you don't, you will at least experience the solitude and pristine conditions that only come in the fall.