Bull Trout Bonanza
Lake Billy Chinook or Round Butte Reservoir as some prefer to call it is the only lake in the lower 48 states that allows fishing for and the harvest of one bull trout daily. The fish must be at least 24 inches, which is a minor task since these fish can add several pounds in a year. The Oregon State record caught back in 1989 weighed in at just over 23 Lb. Each year fish in the teens are caught and released and I am talking pounds not inches.
I will never forget the first time I ventured out on the lake back in 1996. Armed with a few Rapala Shad raps in black/silver and the suggestion to go work the Metolius Arm along the shoreline, I headed out. It was 12:00 noon and I had started much later than I had originally planned. The ODFW employee at the ramp told me to go toward the dam and then make a left. I would then be at the entrance of the arm.

Gettin' Lucky
Having never been on the lake before, it was a crapshoot as to where I should start. I decided on a point on the southern shore and put the #7 Shad Rap back as I lined up to come in across the point and then follow the shore down into the bay beyond it. I had been working the 15-30 foot depths about 10 minutes when I reached the back of the cove. I remember spotting some small kokanee bustin' the top and thinking this was looking better all the time. As my boat passed by the cove and the lure was probably just reaching it, all of a sudden, the rod goes over in the holder and the drag clicker begins to scream. Startled and excited, I fumbled to get the rod out and proceeded to hang on until the run stopped. I am having fun now!
I had never fished for bull trout and did not really know what to expect but that day I learned something about them I have seen many times since then. When they get near the boat, they often bull dog down or away on some nice runs and do not give up easily. After several minutes of give and take, the big female was beside the boat and I was thrilled to see she was pushing 30 inches. She far exceeded what I was expecting on a first outing. I was just hoping to catch a bull trout or two and did not think I would land a trophy on the first fish. My Cardoza spring scale read 11.5 LB. and I was shocked to land such a toad in my first half hour on the lake. Just so you know, my standard for a trophy trout is a fish exceeding 10 Lb.

When I got back to the dock, Craig Soule the ODFW employee mentioned earlier, was surprised to see me back so soon. I told him what had happened and that I was intending to mount the fish, so I was finished for the day. I was impressed that after only one hour on the water, I had hooked and landed a trophy bull trout. What a wonderful fishery and only 60-minutes from home. This is just one of the reasons I love living here in Central Oregon.

Size Does Matter
To prove my point about their terrific growth rates, my first bull had a tag in her back that I returned to ODFW. It turns out that she had been caught and tagged by Aquatic Biologist, Don Ratliff about 26 months earlier and at that time; she was 21.5 inches and weighed in at just less than 5 LB. This hen had gained over 6.5 Lb. in a little over 2 years! More astounding than that, was the growth rate of a second tagged bull I caught back in 1999. This fish, caught in April of that year, was 23.25 inches long and weighed 5 Lb. 7 oz. When I received the report from the biologist a month later, I was astonished to learn that the bull was only 13 oz. and a little over 14 inches when originally tagged in April of 1998. That is a gain of 9.25 inches and 4 Lb. 10 oz. in only a year! Now you know why these fish attain the size they do on a diet of primarily kokanee.

Geography and Scenery
Lake Billy Chinook is a jewel nestled in the canyons of the Crooked, Deschutes and Metolius Rivers. These arms range in lengths of 9 to 12 miles each and are home to many nesting pairs of Bald Eagles each spring. On some days, we have seen a dozen different birds in the air at one time. You can also spot Golden Eagles and various other raptors if you have a keen eye.
The majestic basalt cliffs that greet you as you drop down into Cove Palisades stand between 300 to 400 feet tall. There are intricate rock formations that were formed by the lava flows long ago. The sweeping, swirling circles of rock are unlike anything I have seen anywhere else. On any given day, you might spot small herds of Mule Deer along the cliffs. Farther up the Metolius Arm, we often see cattle and horses that belong to the Warm Springs Tribe grazing along precarious trails or getting a drink at the shoreline.

Fishing Techniques

If you drag a big plug that runs 10-20 feet deep and resembles the kokanee, you will catch some bulls. When I first started fishing the lake, the Shad Raps and larger size Flatfish and Quickfish seemed to be the ticket. My buddies and I have been experimenting with various plugs the last several years. Some of my favorites are the A/C plugs, Pro-Troll Stingkings, Yozuri Minnows, and the Lyman plugs.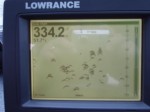 While prototype-testing EChips for Dick Pool a couple of winters ago, we discovered that we could catch deeper suspended bulls with downriggers. We were amazed at the success we had on those first outings. I believe we caught and released nine bulls the first day, up to 9.5 Lbs. We have even caught some nice 4 LB. browns on a couple of occasions working just under the kokanee schools. One thing is for certain, downriggers are a huge advantage in pursuing bull trout. Another technique I employ is what I call "rattling the rocks." This is just what it sounds like and is not for the frugal anglers, as you will lose some lures. You purposely run your diving lures at depths that knock the bottom consistently. If there are bull trout around, it really pushes their buttons. As I said earlier, you will lose some lures but it could make the difference between catching fish and not.

Another advantage of the downriggers is the use of the Black Box, a product put out by Pro-Troll that allows you to control the voltage your boat is emitting. Commercial salmon fishermen have known for years that low voltage can play a significant part in catching fish. Unknown to most anglers, your boat is putting out a voltage that may be repelling or attracting fish. With the Black Box, you can know your actual voltage and set the voltage on your downrigger cables to attract fish. For more information about Pro-Troll products, visit www.protroll.com.

State of the Fishery

Ironically, right before I was about to finish this article, I got a return call from Scott Lewis. Scott is a Fish Biologist with PGE. I had called him a week or so earlier to introduce myself and let him know of my plans to guide at Billy Chinook. His call turned out to be a real revelation for me.
After a few minutes of introductions and some small talk, we got to the subject of bull trout numbers and their overall condition in the lake. A few months back, the Bend Bulletin ran an article on the annual survey of redd (spawning beds) counts for the bull trout up in the Metolius River. This year it was up to over 1,000 and a steady improvement over the past five years when there were around 500 in the late 90's. That is good news, or is it? According to Scott, the science and the data is pointing to a peak or plateau for the bull trout population. This has come about because of several factors including an aggressive program to limit the take to one fish per day and set a minimum size limit of 24 inches or larger on the bull trout. That has been in effect for many years. On the other end of the scale is a steep decline in the kokanee population. These occurrences often go in cycles and right now, it appears that the predator/forage balance is top heavy with too many bull trout and not enough kokanee to sustain them.

I have been observing similar conditions at Pend Oreille Lake in Northern Idaho the past 15 years. As a member of the L.P.O.I.C., I have tried to keep abreast of the fishery. Their problems are a bit more complex because they have even more variables. Three top end predators (lake trout, bull trout and the giant Gerrad rainbows) and lake level fluctuations that adversely affect the shore spawning koknaee had led them to regulations that now encourage the take of five rainbows a day. The limits on lake trout were lifted altogether. On the other hand, the kokanee limit has dropped to zero. This is an aggressive turn around from the days of 25 kokanee limits and the encouragement of catch and release of the Kamloops rainbows. The plan looks like it is having a positive effect as kokanee numbers are on the rise.

It comes down to this. If the forage base gets too small, the top end predator numbers will crash. The biologists on the project are strongly recommending some changes to the management of the fishery. With plans to reintroduce kings, sockeyes and steelhead into the system within a few years, they are concerned that the bull trout numbers are not balanced. They are suggesting a more liberal limit on the bulls and perhaps dropping the size limit to 18 inches.

For those of you who have been squirming in your seat as you read the last few paragraphs, let me say this. We have a unique fishery with the bull trout in Lake Billy Chinook. They have thrived! In most of their traditional habitats in the northwest, the bull trout populations declined and are listed as endangered species in many states. This is because they are highly sensitive and require a limited range of cool water temperatures and pristine conditions. This lake is truly one of the success stories for the bull trout. Since we are not going to tear down the dams or be able to restore their entire habitat to the days of old, let us work with what we have. It looks like they may need to consider some changes in the way the bull trout are managed on this lake.
House Boat Rental/Guide Trip Package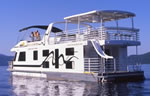 Starting this spring season 2006, Cove Palisades Marina in conjunction with Trophy Trout Guide Service is offering a special three-day combination houseboat rental with one day of free fishing guide service included. All of this for only $1850! The amenities on the houseboats are unbelievable. At 60 feet, they have everything including two kitchen sinks, no pun intended. The spacious salon area has a gas fireplace with big screen stereo TV including home entertainment sound system with DVD and VCR. The kitchen area is loaded and features full size appliances including fridge/freezer, microwave and dishwasher. The five staterooms all have there own TV's with DVD and VCR. The upper deck has a hard top covered entertainment area with built in BBQ, stainless kitchen sink, stereo system and large screen TV. There is even a hot tub and a bar. I almost forgot there is a water slide as well. Contact me if you are interested in discussing this package.
.
If your budget is a little tighter, consider a guided trip with me for bulls, browns or kokanee starting in February through June and then again in the fall. I offer half and full day trips and if you get that trophy, I can mount it for you as well.